RUN BTS Episode 146 Moments: Jungkook carries Jin and Suga pretends to be a mannequin
Jin, Jimin, Jungkook, RM, Suga, J-Hope and V are transported to the Joseon Dynasty era. The members try to solve the mysteries making ARMY's laugh. Check out the unmissable moments from the episode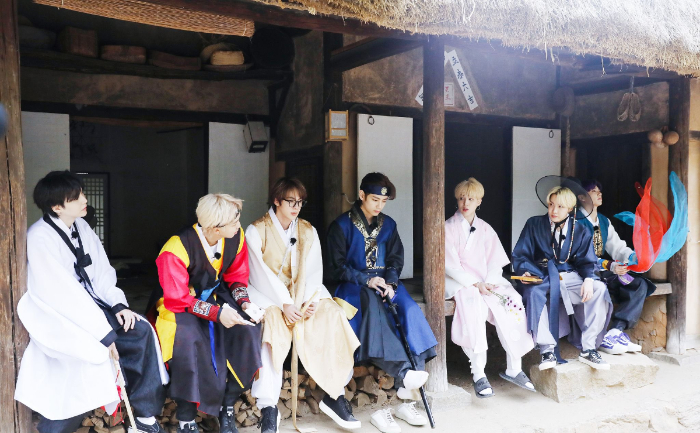 Jin, Jimin, Jungkook, J-Hope, RM, Suga and V made ARMY's laugh with their adorable antics in the new episode of RUN BTS. In the previous episode, the members were transported to the Joseon Dynasty era and they were asked to hunt the ARMY headstone to identify the spy among them who broke it. In the new episode, all the members hunt for the answers and clues to solve the mysteries. While most of the members think that V is the spy, Jimin at point is convinced that Suga is the spy. The septet while being on a mission to solve mysteries, made sure to make everyone laugh with their unmissable antics. V spends time with a cat on the sets, while Jungkook lifts Jin and Suga pretending to be a mannequin, there are unmissable moments in the episode.
Check out highlights from RUN BTS episode:
Namjoon's patience always getting tested in run bts episodes, somebody help him😂 pic.twitter.com/FNn3Grqv8S

— ◡̈ (@taebokkiii) August 10, 2021
run bts editors representing armys pic.twitter.com/f9wes7C0u7

— xia⁷ (@vantends) August 10, 2021
pls this us so cute yoongi pretending to be a mannequin and the way he's smiling when the royal army saw him i love this run bts ep today 🥺😭#runbtsep146 #RUNBTS pic.twitter.com/6S3leuggj2

— jeya⁷ 🌟 ᴾᵀᴰ (@sunnyztaee) August 10, 2021
🐥 : The thief always has something in his hands…
🐻 : 🧍🏼‍♂️👀…

This is so funny…#RUNBTS #vmin pic.twitter.com/QNi48Zz74a

— 𝒯𝒶ℯ𝓀ℴℴ𝓀 (@taetaegukkii) August 10, 2021
Taekook | RUN BTS ep.146
🐻*passing by*
🐰:what? pic.twitter.com/VsLvfdpCHw

— TKA (@forTKarchive) August 10, 2021
Yes Yes Yoongi is a cat🐱🐾#SUGA #RUNBTS pic.twitter.com/XnZDyKmhXA

— Min Riya⁷🐱🍊 (@minriya18) August 10, 2021
Jungkook piggybacking up jin like it he is feather 😭 #runbts #runbts146 #btspic.twitter.com/tEsJXAnBQa

— jinhit4life⁷☾•ᴗ•|Hyuka month🐧| (@ksj_Btxtlover) August 10, 2021
For more such updates, stay hooked on to The Live Mirror.
Also Read: The Kid LAROI & Justin Bieber Dethrone BTS' Butter As No. 1 On Billboard Hot 100