The Rusev, Lana and Lashley Saga continues as Lana tells her side of the story on WWE Raw
Fans Freak Over Rusev & Lana's 'Divorce Court'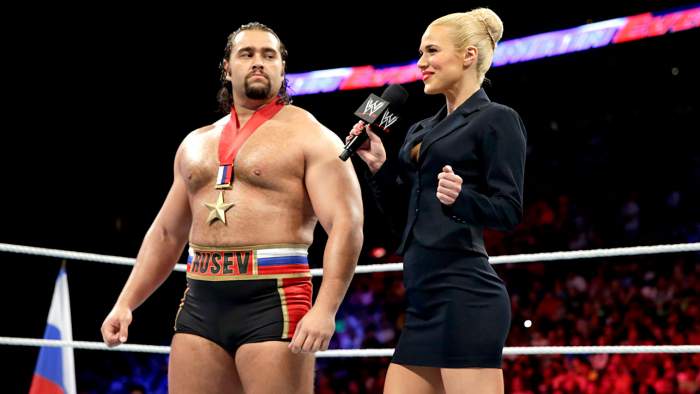 WWE continued its Lana, Rusev and Lashley storyline though this week's WWE RAW.
Jerry "The King" Lawler played counsellor as he tried to get to the bottom of the troubles between Lana and Rusev on a special edition of the King's Court. He tried to dissect the reasons behind the collapse of the marriage and it led to some interesting results.
The "Ravishing" Lana put forth her side of the story claiming that Rusev was a sex addict and just wanted to get her pregnant. The model and fashion influencer said she was focusing on her career and didn't want to start a family just yet.
On being further pressed for reasons, Lana admitted that Bobby Lashley had told her Rusev cheated on her. The Bulgarian brute denied it and Rusev and Lashley ended up slugging it out on WWE RAW. Lana hit her husband with a kendo stick, allowing Lashley to take the upper hand in the fight. The segment ended with Lashley low blowing Rusev and kissing Lana.
Bobby Lashley also had a message to deliver post-fight.
Good luck having little Rusev brats now. ? #RAW https://t.co/QO9XuXsffk

— Bobby Lashley (@fightbobby) October 29, 2019
The storyline started in early October. Rusev was also featured in a storyline with Mike and Maria Kannellis at the time but that faded out rather quickly. The scandals weren't quite over for Rusev though who found himself amidst a love triangle storyline involving Lana and Lashley.
The two competitors, Lashley and Rusev, are due to appear in the Crown Jewel pay-per-view in Saudi Arabia. Lashley is a part of Team Flair which also includes Randy Orton, Drew McIntyre, King Corbin and Shinsuke Nakamura. Rusev is a part of Team Hogan with Ricochet, Ali, Roman Reigns and Shorty G.
ALSO READ: Hulk Hogan Hoping For One Last Match At WrestleMania 36