Sabarimala row: 1,400 arrested for unleashing violence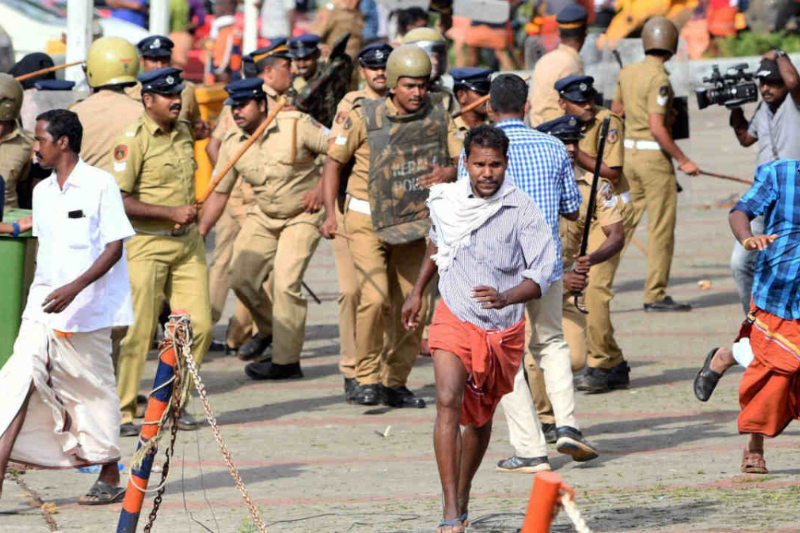 In a major statewide crackdown, Kerala Police have arrested 1,400 people in connection with the violent protest against the entry of menstruating women into the Sabarimala temple following the Supreme Court verdict last month — allowing women of all ages to enter the temple.
According to a report in The Hindu, Police have filed 440 cases and issued lookout circular for 210 persons allegedly involved in the protests at Nilackal, Pampa and Sabarimala. Around 150 persons had already been identified.
The operation was led by district police chiefs, among arrested people including women, have been booked under various Sections of Indian Penal Code (IPC).
According to the report, a special team was formed to track down the people featured in the lookout notice and drag them into custody. "The crackdown is being coordinated by top officials at the range level," The Hindu reported.
Condemning the statewide crackdown and mass arrest, the BJP State unit said it would move the court. They are spearheading the protest against the entry of young women into the Hindu shrine. It said that the party would also take out protest marches throughout the State on Friday.
The Pathanamthitta Police arrested 153 people from different parts of the State in connection with 50 cases registered following the violence occurred at Nilackal and Pampa on October 17. Of the 153, 74 have been charged for non-bailable offences such as destruction of public property, attacking women journalists and police vehicles and injuring a police commando. The remaining 79 offences are bailable for offences like rioting and road blockade.
Kerala Police have also released photographs of over 200 people suspected to have been involved in the protests at Sabarimala to prevent the entry of women of menstrual age into the shrine last week.
Arrested people were later produced before the Judicial First Class Magistrate at Ranni.  As many as 240 people were arrested from Thiruvananthapuram, Kollam and Pathanamthitta districts. Another 564 persons were arrested from Kottayam and Ernakulam. "More arrests will be made in the coming days as the remaining on the list are being identified,  Vijay Sakhare, Inspector general of Police, Kochi Range told The Hindu.
Also read:  Sabarimala Temple to close today for a month, Women prevented from reaching shrine