Sabarimala Temple to close today for a month, Women prevented from reaching shrine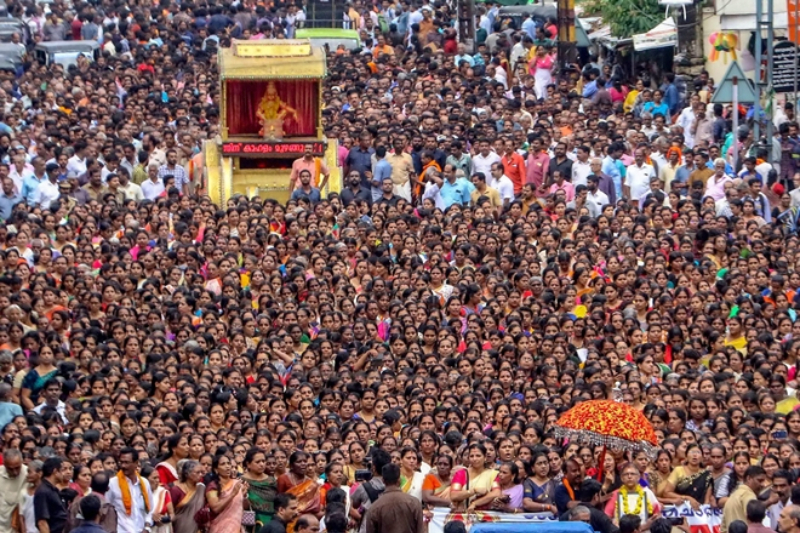 The gate of most popular Hindu shrine Sabarimala will be closed for a month from Monday, October 22. Despite the Supreme Court's landmark judgment, not a single menstruating woman has been allowed to enter the Sabarimala Temple for the last five days, since it was opened on October 17.
As of now nine women including, two journalists have been able to reach the holy 18 steps of the shrine, but have had to return midway. The apex court 28 September verdict— allowing women of all ages to enter the temple — has triggered a widespread protest among the devotees of Lord Ayyappa.
A 47-year old woman reached up to the 'Nadappandhal' close to the sanctum sanctorum but was stopped by the devotees chanting "Swamiye Saranam Ayyapa" while five others were stopped en route to the hills.
Monday is the sixth day since the Sabarimala temple's gates were opened for monthly puja following the court order.
A Muslim activist Rehana Fatima — attempted to enter the Hindu shrine on Friday has been expelled from the Muslim community for "hurting the sentiments of lakhs of Hindu devotees".
In a statement, the council said, "Her act hurt lakhs of Hindu devotees." The body's president, A Poonkunju, said Rehana, who had participated in 'Kiss of Love' agitation, "has no right to use a Muslim name".
CPI(M) politburo member S Ramachandran Pillai claimed the devotees opposing the top court verdict were in a minority and they did not have the support of the entire Kerala society.
Meanwhile, the Sabarimala Karma Samithi intensified its agitation against the CPI(M)-led government's "hasty" move to implement the court order.
Thousands of people participated in the "namajapa yatra" (protest march chanting Ayyappa mantra) to police stations across the southern state against alleged police action on the Samithi activists near Sabarimala last week.
The Bharatiya Janata Party (BJP) is demanding a special assembly session — seeking the Centre's intervention, while the Congress sought an ordinance by the NDA government.
Also read: Sabarimala row: Woman halted over age rumours, let in after proving she is 52