Sabarimala row: Fresh protests break out after 11 women marched towards Lord Ayyappa shrine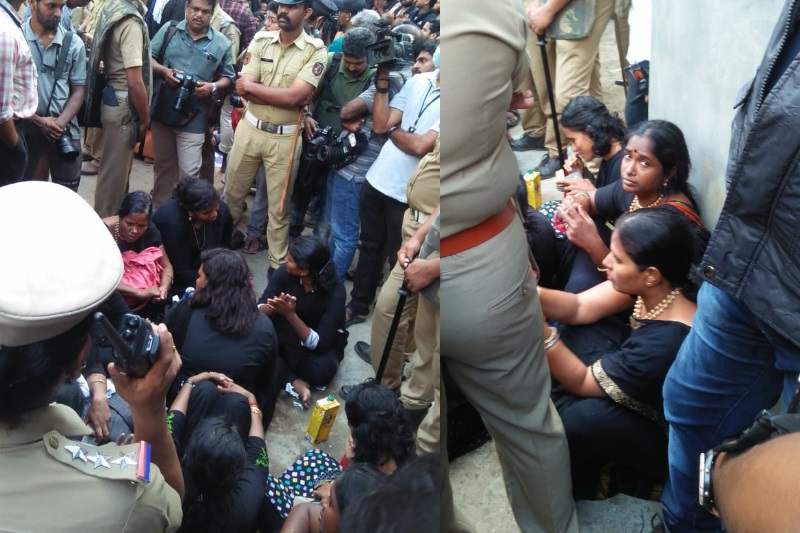 At least 11 women below the age of 50 years, on Saturday early morning arrived at the Pamba base camp in a bid to enter the Sabarimala shrine in Kerala.
Though the women attempted to trek through the traditional forest path, about 5 km from the temple complex, they could not go forward as protesting devotees defied prohibitory orders, which have been extended till December 27, and started 'namajapa'.
The women, members of the Chennai-based Manithi outfit, have been squatting on the road since 5:20 am. Police have thrown a security ring around them to keep protesters at bay. The women have told the police that they will not return without darshan. On the other hand, protesters said that they will not allow these women to reach the hilltop temple.
It is to be noted that so far more than 20 women had returned without praying at the shrine even after a court order allowed their entry to Sabarimala.
After the judgement, Kerala witnessed massive protests by Lord Ayyappa devotees opposing the entry of girls and women of menstrual age into the Sabarimala temple since the government decided to implement the Supreme Court order.
Over 3,000 people were arrested for creating a ruckus over the issue and over 500 people have been chargesheeted by the police for violence. So far, no woman in the age group of 10-50 years has yet been able to visit Sabarimala temple since the top court's order.
Also Read: Sabarimala row: Three arrested for stopping two women advancing towards Lord Ayyappa temple