Sabarimala row: Woman halted over age rumours, let in after proving she is 52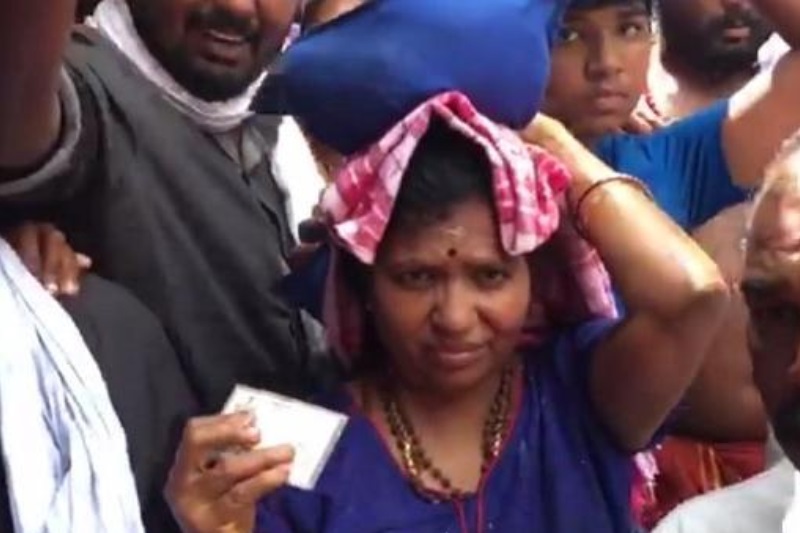 As soon as the rumours were spread that a woman from Tamil Nadu below 50 years of age is visiting Sabarimala temple to offer prayers to Lord Ayyappa, a massive protest broke out.
The situation turned tense in the area, as devotees gathered in large numbers at 'Valiya Nadapandhal' to protest against the woman's entry into the temple. After the high voltage drama, the tension was defused as the woman convinced the protesters that she was above 50 years of age by showing her Aadhaar card.
After being allowed, the woman carrying 'irumudikkettu' (holy bundle) climbed the 18 holy steps amid security cover and offered prayers to Lord Ayyappa.
Pathanamthitta District Collector P B Nooh said that there was no tension at Sannidhanam. He said, "A woman came for darshan. Some news channels followed her, then a crowd gathered and that was the only issue."
The collector also dismissed as rumours reports that some young women were planning to trek the hills to reach the shrine. "There were some rumours through social media. We verified them and there is no confirmed report so far," Nooh added.
The collector further asserted that it is the responsibility of the administration to facilitate the darshan of Lord Ayyappa for all devotees.
On Friday, two women reached the hilltop with heavy police escort to offer prayers to Lord Ayyappa but had to return before reaching the sanctum sanctorum following massive protests by devotees.
Notably, Kerala has been witnessing massive protests by Lord Ayyappa devotees opposing the entry of girls and women of menstrual age into the Sabarimala temple since the government decided to implement the Supreme Court order.
On September 28, a five-judge Constitution bench of the Supreme Court, headed by the then chief justice Dipak Misra, lifted the centuries-old ban on the entry of women of menstrual age into the shrine.
Also Read: Sabarimala row: Following priests' threat to shut down shrine, two women returned