Sabarimala Temple reopens; Trupti Desai still stuck at Kochi airport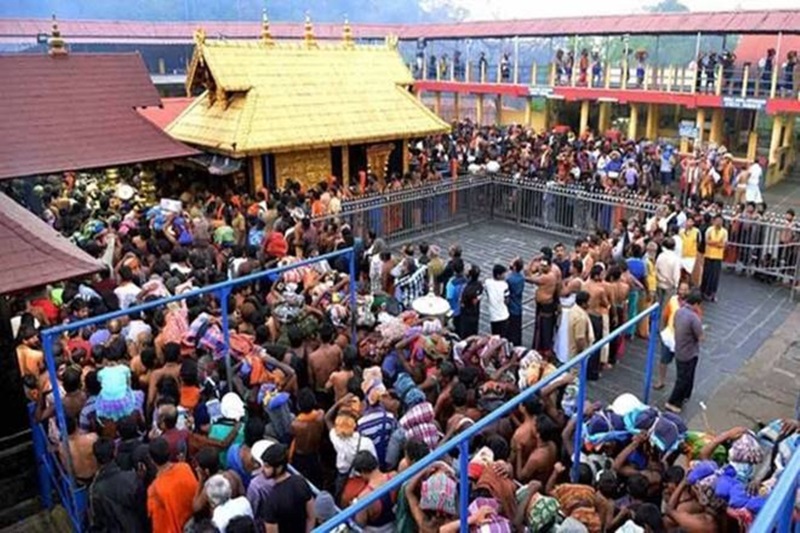 Amid stringent security arrangements, Sabarimala Temple reopened today at 5 pm for the third time after Supreme Court on September 28 allowed women of all age group to offer prayers at the hilltop Lord Ayyappa temple. Security has been beefed up at the Nilakkal base camp.
Over 15,000 personnel, including women police personnel and 860 women civil police officers have been deployed for ensuring the security of the devotees. Notably, the Sabarimala Temple has been reopened today to celebrated two-month-long 'Mandala Makkaravillakku' or the pilgrimage season.
In the meantime, the Kerala police have asked women's rights activist Trupti Desai and her six colleagues to return to Pune. Earlier today, Trupti Desai and her six colleagues reached Kerala's Kochi International Airport to visit the Sabarimala temple but was blocked by protestors at the domestic terminal.
The protestors comprising devotees and BJP workers announced that Trupti and her colleagues would not be allowed to go out of the airport. However, Trupti said that she won't return without visiting the temple.
On Thursday, the Kerala government called an all-party meeting on Thursday to discuss the issue but the Congress and the BJP walked out.
It is to be noted that after the judgement, Kerala witnessed massive protests by Lord Ayyappa devotees opposing the entry of girls and women of menstrual age into the Sabarimala temple since the government decided to implement the Supreme Court order.
Over 3,000 people were arrested for creating a ruckus over the issue and over 500 people have been chargesheeted by the police for violence.
So far, no woman in the age group of 10-50 years has yet been able to visit Sabarimala temple since the top court's order.
Also Read: Sabarimala row: Activist Trupti Desai barred from coming out of Kochi Airport; faces massive protest