Sandes India's Alternative To Whats App, All You Need To Know
Indian Government Develops Its Own Version Of Whats App Name It Sandes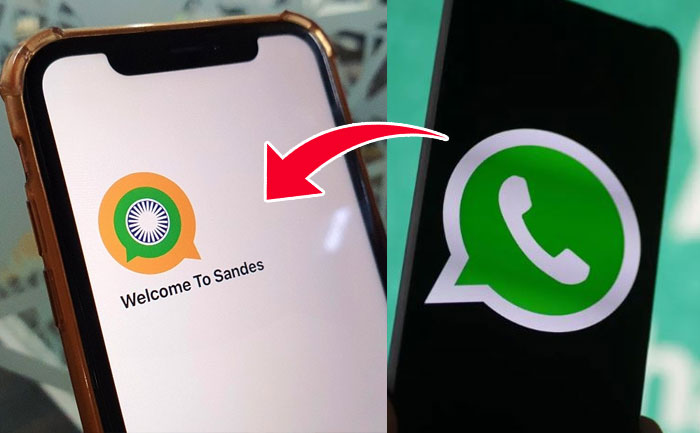 The Indian government has decided to counter Whats app privacy matter by developing its own version of the messaging app called Sandes. The instant messaging platform has been launched by the National Informatics Centre (NIC). Just like What's App and other messaging apps, Sandes too uses end to end encryption. It also has an additional safety feature. It allows users to mark a message as confidential. This makes the recipient aware the message should not be shared with others. The Sandes app also supports verified accounts for government employees.
Here is all you need to know about Sandes:
How To Download:
You can download the App on your mobile device.
It is available for download in an APK file for smartphones running on Android 5.0 through the government's GIMS portal.
For iOS users, the app is available for download through the App Store.
It is compatible with the iPhone, iPad, and the iPod touch running on at least iOS 12.0.
How to download Sandes app on iPhone
Apple App Store -> Search Sandes -> Tap on Get button
How To Download Sandes on Andriod
Open https://www.gims.gov.in/dash/dlink -> Click on Download button under the Android section
How to Sign Up:
Once downloaded, you can sign up on the Sandes app using your mobile number or email ID.
The app will send you a six-digit OTP for authentication.
Email IDs are at present restricted to government IDs only.
Only official @gov.in emails can be used to register with the app.
Or you have to use your phone number.
Once signed up you will have to stick to the same number or email to continue using the app
Key Features:
You can register on the app via email or phone number.
Sandes offers its users to create groups with 200 member capacity.
You can share emojis, and also forward text messages.
You can also backup chat history to any email address.
PDF document received in Sandes can be uploaded to Digilocker.
You can share jpeg, png, mp3, mp4, pdf, doc, ppt, and excel files.
You can audio and video call each other.
The Chatbot service in Sandes can be used to access dashboards of various initiatives by Government.
You can also edit your profile or select your status upon signing up on the Sandes app.
The Sandes app can be used by both government officials and individual users.
It requires a mobile number or government email ID for sign up.
Once signed up, users can send and receive messages.
Sandes is available in Apple store for a few people to test. It has a blue-and-white interface with the Ashok Chakra as its logo. It authorises and verifies only government employees for now. The biggest advantage of this app will be that "we will never have to worry about data being stolen and used for commercial gains by big tech".
Earlier this month, a Bengaluru-based startup launched Koo, a Twitter-like microblogging platform. Within five days of its launch, its user base soared by over 900,000.
Also Read: Indian Twitter Alternative: Check Out Koo App Specifications And Know How To Download