Sanju: It's confirmed! Rajkumar Hirani is a good PR manager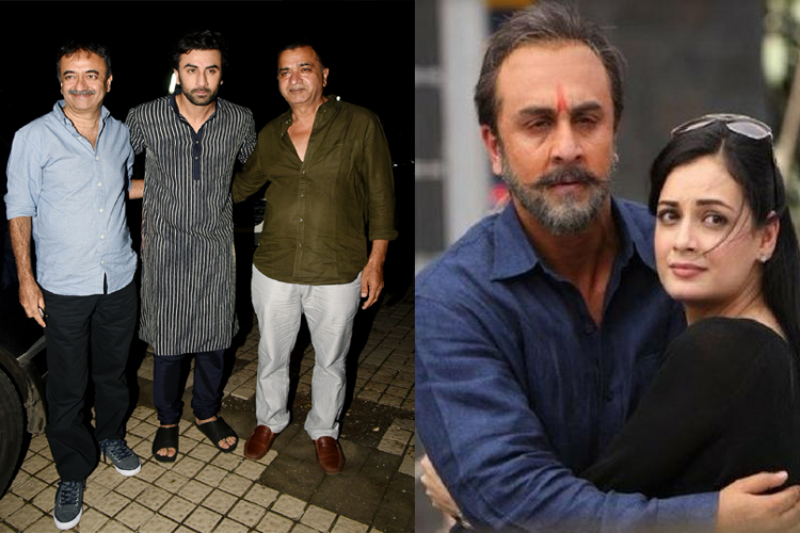 While we were still reeling from the aftermath of the 'Chamatkar-Balatkar' joke from 3 Idiots, we have to deal with yet another catastrophy of magnanimous proportions, 'Sanju'. While the world wasn't so woke back in 2011 and sexists jokes were a norm, we are wondering how the recently released Ranbir Kapoor starrer missed the scrutiny of the media. Well, atleast the liberal media, but what has surprised many people is that even the right-wingers didn't have any bone to pick with the story of the man who was found in cahoots with the people behind the 93 Mumbai blasts, moreso with Dawood Ibrahim. The right wingers, who usually have a say with every second movie hitting the screens, did not have any bone to pick with 'Sanju' a movie based on a man who was rescued from the clutches of TADA by 'Hindu Hriday Samrat', Bal Thackeray. More than rescued, it was his father Sunil Dutt who brokered a deal with Bal Thackeray to free his troubled son from jails. However,as per the movie, there is nothing that is wrong with this man, who 'kept AK 56s and hand-grenades at his place for self-defense', the weapons which were later used in the 93 Mumbai blasts and some of them thankfully, weren't. The 71 automatic rifles consignment which came from Pakistan, which was a big breakthrough in the TADA case has been removed. So has the fact that the entire TADA law was changed for one man, but the others who were charged with it still remain in prison, only because they didn't have rich pappas and filmmaker friends to help them out. The TADA court convicted everyone who handled the arms, except Sanju. One of the accused was a woman and her daughter till date maintains that had her mother been popular or had political connections, she would have gotten away too, with minimum punishment. But that is up for debate. For example no one knows why the son of a legendary actor and former Youth Affair and Sports Minister need protection from 'Hindutva thugs' especially since his father already had licensed weapons and could have asked for extra cover. In a country that has time and again persecuted minorities, this movie is a great disservice to them. Even if the politics were to be left out from the movie, 'Sanju' is still a movie that is high on patriarchy, sexism, misogyny, toxic masculinity and everything that is wrong with the society. I will not indulge in moral policing and judge Sanjay Dutt or Ranbir Kapoor or Rajkumar Hirani or Abhijat Joshi or Vidhu Vinod Chopra for showing 'Sanju' drink, do drugs or have flings. What is problematic is how this camp continuously churns out films on hyper masculinity.
Rajkumar Hirani' famous tear-jerker films all fail to pass the Bechdel test. In hindsight, Rajkumar Hirani hardly has any strong women characters in his films.Misogynist and sexist dialogues are uttered in his films under the garb of humour and comedy. In Sanju, Ranbir Kapoor is shown pulling a man's genitals with impunity and without regret. This is an act of molestation and not comedy. Previously it had been the objectification of a 91-year old woman who falls in the bathroom. The women in Sanjay Dutt's life have been successful and more famous, yet they hardly have screen time or in some cases haven't been mentioned in the biopic. Sanjay Dutt's mother, the legendary Nargis played by another legendary actress, Manisha Koirala hardly gets screentime. One must wonder, why Raju Hirani, Sanjay Dutt's bff didn't want to make a film on Nargis, one of cinema's women superstars. His first marriage with actress Richa Sharma or his daughter Trishala have no mention in the film, knowing how Richa's sister, Ena Sharma had accused both Sanjay Dutt and Sunil Dutt of mistreating Richa, while she was still married to him. There is no mention of Rhea Pillai, who was known to have helped him sort out his personal life. There is only mention of his third and current wife, Manyata Dutt, who's name propped up in the Panama Papers, but that also has no mention. Sanjay Dutt's sister Priya Dutt is a MP and a popular face in politics, but her character barely has screen time and dialogues in the film. Anushka Sharma, who plays Sanjay Dutt's biographer has been gaslighted several times in the course of her conversations with Ranbir. 'Sanju' also has no regard for any woman, except his current wife. He sleeps with his friend's girlfriend because he thinks she is 'immoral', casually jokes about his girlfriend's father's death, because why not? Are we as an audience supposed to sit and buy this reprehensible sh#t which is more mucky than the one shown in the film? Sanju's character only loves his Mommy and Daddy. And why won't he? They were rich and successful and had to put up with his problematic behavior every time he faltered. Sanju had 300+ girlfriends that doesn't include sleeping with prostitutes, because who would want to count sex workers as women? Sanju likes to wear the fact that sleeping with women is a badge of honour he proudly needs to wear.
In this time and age when journalists and editors are killed in the country for speaking their mind, Hirani shows them to be monsters and the real villains in Sanju's life. Not only this, but Hirani ensured that he dedicates an entire song demonizing the media. In one scene Sanju explains to his fellow prisoners that newspapers need to sell so that they can make more money, and to sell, they need more masala, and TADA/RDX was just masala for the news media. News, facts, ethics, journalism, principals, credibility and years spent on building news sources don't exist in Hirani universe. Journalists who have died for uncovering the truth have no place in Hiraniverse. We see Ranbir Kapoor and Sanjay Dutt both featuring in the song, knowing how both have no love lost for the media. The only part Rajkumar Hirani got right was casting Ranbir Kapoor,another manchild, star kid and 'raja beta', who also leaves no opportunity to run down his love-interests. When it comes to Ranbir Kapoor's choice of films, it is almost as if he loves playing himself. A rich 'Raja Beta' in search of himself and who constantly needs validation for his choices from the women in his life. But that is only time when this entire Hirani-Vidhu Vinod Chopra camp needs women. To validate their choices and give them brownie points for casting them in the films. This movie is perhaps one of the most vile pieces of cinema, this world has ever seen. This movie not only glorifies a criminal, but also justifies his every wrong-doing and shifts the blame on external factors. Rajkumar Hirani, is now more of a propagandaist, than a filmmaker and that is what makes him not only dangerous, but also vile. Because the next time a rich man's kid is caught on the wrong side of the law, he knows he has to place a call to Raju Hirani.