Sanju Trailer: Ranbir Kapoor stuns as Dutt, Rajkumar Hirani maintains his flawless film-making skills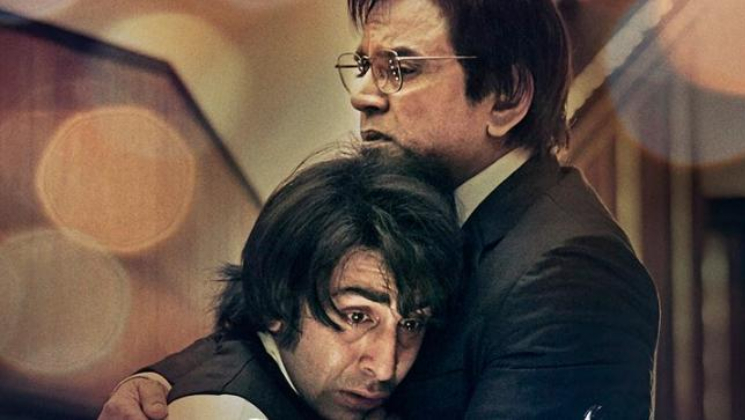 The most anticipated trailer of the month is out. 'Sanju, one man many lives' is a biographical film on the life of 'Sanjay Dutt' made by Rajkumar Hirani starring Ranbir Kapoor, Paresh Rawal, Manisha Koirala, Anushka Sharma, Sonam Kapoor, Dia Mirza, Vicky Kaushal, Jim Sarbh and Boman Irani.
The film is a hilarious and heartbreaking exploration of one man's battle against his own wild self and the formidable external forces trying to crush him. It depicts the journey of a man through everything that life can throw at him. Some true stories leave you thinking "did this really happen?" This is one such unbelievable story that happens to be true.
Coming from a family of legends of cinema, he himself became a star but like everyone has their own ups and down in the way of life even Sanjay Dutt had some good and bad times but what made his life worth making cinema on was his dark side which definitely everyone is aware about and which also made him go through intense scenes.
Dutt has a tremendous fan following including Rajkumar Hirani who got inspired from shades of his life and made this film. From getting addicted to various drugs to the end of his prison term. Hirani is so far successful in maintaining his peculiarity in the film. Even though the film is anticipated in terms of loss of loved ones and his involvement with underworld, Hirani has made sure that not only bad times but good times are also expressed onscreen which will give film a 360 degree angle.
Now coming to the actors, 'Ranbir Kapoor' is a heart-rob and this time he is victorious doing same in a different way. His look is completely complimenting him as Sanjay Dutt and no doubt that out of trailer only, one can make out that how affluent his acting appears onscreen which is paying off his hardwork, ultimately contributing to the peculiarity, the director has tried to sustain. To put light on the other actor's performance like Paresh Rawal, Manisha Koirala, Anushka Sharma, Sonam Kapoor, Dia Mirza, Vicky Kaushal, Jim Sarbh and Boman Irani everyone has equally contributed to the saga of Sanjay Dutt.
'Sanju' will be seen in cinemas on 29th June 2018.
Picture credits: Deccan Chronicle