Sapna Chaudhary Reacts To BJP Leader's Remarks On Sonia Gandhi
Anger Over BJP MLA Surendra Singh's Remarks On Sonia Gandhi, Artiste Sapna Chaudhary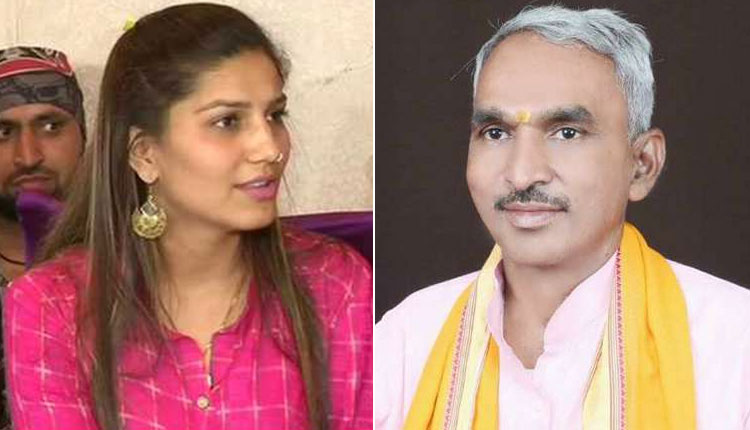 An Internet sensation Sapna Chaudhary has finally reacted to Bharatiya Janata Party (BJP) MLA Surendra Singh's comments and said that Congress President Rahul Gandhi is like her elder brother. Sapna Chaudhary called the BJP legislator's comment cheap, disgraceful and condemnable.
It is to be noted that on March 24, Surendra Singh, who is known for making derogatory remarks had compared UPA Chairperson Sonia Gandhi to popular Haryanvi singer Sapna Chaudhary. Singh's remarks have drawn widespread criticism from political parties and sparked anger on social media. Surendra Singh's remark came hours after the rumours singer had joined the Congress Party.
In a press conference, Sapna Chaudhary had refused to having joined Congress and said that she does not have any intention to campaign for any political party in the upcoming election.
What actually Surendra Singh told news agency ANI in Hindi: "Rahul's mother was also in the same profession in Italy and his father made her his own. He (Rahul Gandhi) should also take the family tradition forward and make Sapna his own".  Surendra Singh is an MLA from  Uttar Pradesh's Ballia.
Reacting to Surendra Singh's comments, Sapna Chaudhary took to Twitter and wrote, " Rahul Gandhi is like my elder brother. But this BJP legislator's cheap thought has got me thinking. The statement from the legislator of a national party is highly disgraceful and condemnable. Is insulting women his culture?"
Condemning the remarks, Aam Aadmi Party (AAP) leader Sanjay Singh tweeted, "If you have a rivalry with Sonia Gandhi, then win by fighting the election. Why do you stoop down to offensive comments?"
People's Democratic Party (PDP) chief Mehbooba Mufti too called out the BJP leader on Twitter." Repugnant comments. We need a special brand of Phenyl disinfectant to clean such dirty minds. When a ruling party MLA has the audacity to speak such garbage, you know it has been sanctioned at the top. Nowadays Indian political discourse has become crass, misogynistic & personal," Ms Mufti tweeted.
Also Read: 'Aakhya Ka Yo Kaajal' Fame Sapna Chaudhary Joins Congress