Sardar Patel statue: Amit Shah takes dig at Rahul Gandhi's 'Made in China' remark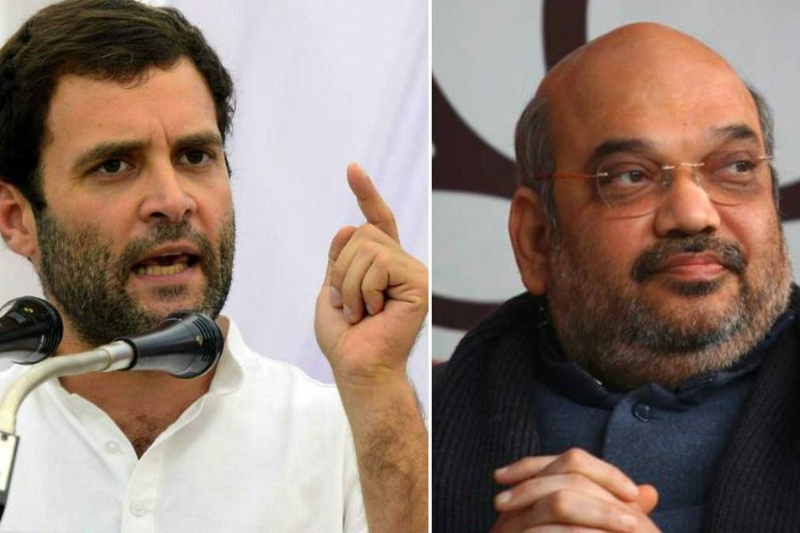 Erecting statues, renaming age-old schemes and false promises have been the hallmark of the Narendra Modi government for the four-and-a-half years they have been ruling the country. And if somebody dared to oppose that, the ruling party's "anti-national" jibe comes into play. In that case, Congress president Rahul Gandhi is the favourite punching bag for the Centre.
After Union Home Minister Rajnath Singh called him "Ra-fail", BJP chief Amit Shah also took a swipe at the Congress chief for mocking the government's plan to erect a statue of Sardar Vallabhbhai Patel being built in Gujarat costing Rs 3000 crore. Rahul's remark of "Made in China" during a campaign rally at Satna in Madhya Pradesh enraged the BJP president.
"At a time when India is uniting to pay tributes to Sardar Patel by building a grand 'Statue of Unity' the Congress president is spreading canards to discredit the project. Shame!" Shah had tweeted in reply to Rahul's allegations at Satna.
"Look at your phone, look under your shoes and your clothes, all of it is Made in China. Narendra Modi ji is building Sardar Patel's statue in Gujarat. It will be world's tallest statue but it will be Made In China. They have insulted Sardar Patel," Rahul had said during the rally.
Pointing his gun towards Rahul, the BJP president said that the Gandhi family "humiliated" Sardar Patel and made all efforts to eradicate his legacy from people's minds and hearts.
The 182-metre status, named as the Statue of Unity has been built facing the Narmada Dam, which is at a distance of 3.2 km from the Sadhu Bet river island in Gujarat's Vadodara. Prime Minister Narendra Modi will inaugurate the statue on October 31, the 143rd birth anniversary of Sardar Patel.
Rahul had pointed towards reports that hundreds of Chinese labourers were among the 2500 workers used to build the statue. The statue will have 5000 squares of bronze cladding the structure of India's first Deputy Prime Minister.
It may be recalled, BJP was in the line of fire when PM Modi laid the foundation stone for the statue of Chhatrapati Shivaji Maharaj, which was solely erected in Mumbai to win the hearts of 80 million strong Marathi community in Maharashtra.
Now, ahead of the 2019 General elections, this is BJP's another ploy to win community in Gujarat with the Statue of Unity. Modi had earlier said that the Gandhi family overshadowed Patel's legacy. "Every Indian regret Sardar Patel did not become the first prime minister," Modi had said during a campaign back in 2013.
Also read: Rajnath Singh's jibe at Rahul Gandhi: RaGa will become 'Ra-fail'