Saudi Arabia: Women can finally drive as the woman driver ban ends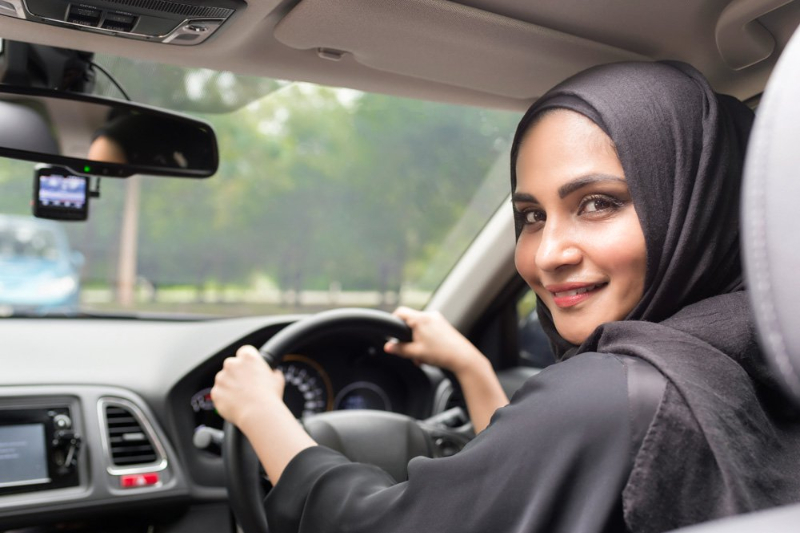 Women in Saudi Arabia are finally able to drive legally after a long-standing ban which was removed by a royal commandment. After more than 60 years spent stuck in the passenger seat, the Gulf kingdom's 15.1 million women can finally take control of the steering wheel when the ban on female drivers is removed.
Though we don't know what made them realize that even women are capable of performing skills like driving. Not just driving but there are several absurd laws in Saudi which will be rarely acceptable in any other part of world than Saudi itself.
The reason which was presented Universally, highlighted that the women in their region are under protection but most of us still keep wondering, is the protection and prevention the same? Certainly 'No'. Because humiliating or restricting a gender by implementing laws which make no difference in prevention and protection is an injustice to the whole mankind in ideal scenario.
One side there are developed countries like USA which is adored by other nations in protecting laws with no injustice towards any living creature when it comes to fundamental rights. Where as there are countries like Saudi Arabia where over past 60 years women where stuck in the fight to even get a right to drive.
The reasons still may vary from political point of view, to not empower women in state, maintaining male sovereignty by not uplifting women together or even religious reasons under the pressure of preserving the culture on the name of traditions.
Let's try to know what were the reasons that kept the Royal ones rejecting the request to remove the ban from such a weird law:
1. A woman in Saudi Arabia is legally treated as a minor from cradle to grave.
2. The Kingdom of Saudi Arabia follows a particularly strict brand of Islamic law known as 'Wahhabism'.
3. Saudi Arabia is an absolute monarchy.
4. State legislation is based on royal decrees and the royal family dominates almost every aspect of political and economic life in the country.
5. It says that men and women should be kept separate and what women should wear veils to cover themselves.
Apart from the reasons, now let's dig up into the reasons Why did King Salman agree to do this, and why now?
The unexpected decision to finally allow women to drive has been welcomed and praised by human rights campaigners across the world since it was first announced in September last year.
While there was no formal ban on female drivers in Saudi Arabia women, have been unable to obtain a driving licence. The policy has been in place since 1957 – though that will change on 24 June.
Last year, Saudi King Salman bin Abdulaziz Al Saud issued a decree stating that the monarchy would start issuing driving licences for women.
His son, Crown Prince Mohammed bin Salman, has set out a plan, called Vision 2030, to diversify the Saudi Arabian economy away from its dependence on oil.
This includes lowering the kingdom's unemployment rate from 11.6% to 7% and increase women's participation in the workforce from 22% to 30%.
A report by the Gulf Research Centre said that lifting the driving ban on women "may help them overcome some of the difficulties they face in accessing job opportunities".
The changes have already meant more visibility for Saudi women who work in the car industry.
The female labor force participation rate was 20.9% in the final quarter of 2017, according to Saudi Arabia's General Authority for Statistics, compared with a male labor force participation rate of 79%.
Women play an important part in Vision 2030. In general, Saudi women are slightly better educated than men and so the government believes they can play an active role in developing the country.
Women who carried out the protest as an 'Activist':
A video clip of a protest by May al-Sawyan, a 32-year-old economics researcher and mother of two, was uploaded on the YouTube channel of the October 26 driving for women group, along with several other videos of women purportedly driving in defiance of the ban in Riyadh, al-Ahsa and Jeddah. It was not possible to verify when they were filmed. Another video to feature on YouTube was the spoof No Woman, No Drive.
Activists said they have 16,600 signatures on an online petition calling for change. Efforts to publicise the issue have been described as the best-organised social campaign ever seen in Saudi Arabia, where Twitter has millions of users and is used to circulate information about the monarchy and official corruption.
some women have been arrested and jailed for defying the prohibition and taking the wheel.
Hence the step to remove ban from women drivers is proved as a significant move till today on world platform which will not only benefit Saudi in development of economy but also gave a chance to their woman to get recognition of their contribution through various skills, in this case it's driving.