Scooter Braun reveals how he collaborated with BTS mentor Bang Si-hyuk for Hybe
Big Hit Entertainment founder, Bang Si-hyuk and Scooter Braun collaborated with each other to form the Hybe Labels(America). The two of them have been working together for a while now. Scooter reveals how he works with the BTS mentor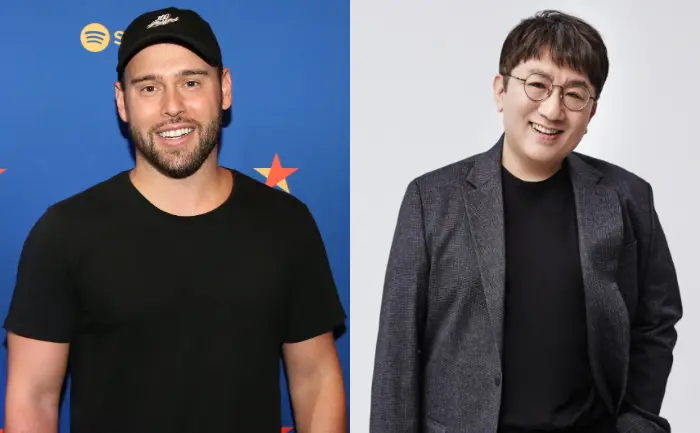 Just a few months ago, Big Hit Entertainment was revamped to Hybe Labels by founder Bang Si Hyuk. He now apparently holds around 34.74 percent shares in the company which has artists such as BTS on board. In April Hybe's 100 per cent stake acquisition of Scooter Braun's Ithaca Holdings and all its properties, including SB Projects (which manages artists like Justin Bieber and Ariana Grande) and Big Machine Label Group was officially announced. This was done through the subsidiary Hybe America. Now Scooter Braun reveals how it is for him to collaborate with Bang PD and how they became friends. He reveals some interesting things about collaborating with the mentor of BTS(Bangtan Boys).
Recently while talking to the Variety, Scooter Braun explained amidst the pandemic Coronavirus outspread he was looking to sell his holdings from Ithaca. Following this how he unexpectedly received a call from BTS mentor Bang Si Hyuk, who shown interest in bringing their companies together through official deals. Braun reveals that he has always admired Bang PD because of what he has built over the course of years(How BTS paved the way to mainstream music is known to all).
Revealing about how he chatted with Bang through Zoom calls, Scooter said, "We talked about our interests, meditation, music, family and we really began to become friends." He also highlights how Bang Si Hyuk explained the difference between Western and Eastern transactions- in the West according to Bang the deals are all about money, however, in the East, they are about relationships.
For the unversed, after launching the Hybe Labels, BTS and TXT members were shifted to a new luxurious building, wherein they have more space and comfort for the practice sessions.
For more such updates, stay hooked on to The Live Mirror.
Also Read:  Big Hit Music Reacts To Reports Of BTS's Possible Military Enlistment In Mid-2022