Selena Gomez's '1973' statement necklace has a political significance
Selena Gomez's '1973' statement necklace is of 14-karat gold.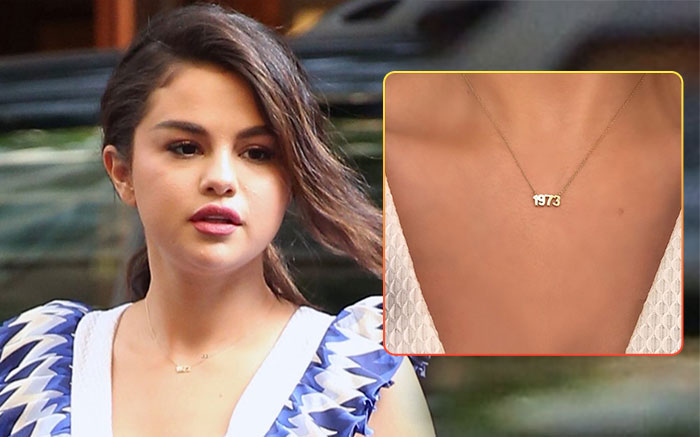 Recently, Selena Gomez appeared on Live With Kelly and Ryan donning a blue and white dress by Chanel that had buttons in the front, and statement sleeves. She completed her look with a pair of white heels and a 14-karat gold statement necklace that read '1973'. Selena's stylist Kate Young posted a picture of the necklace on her Instagram handle where we can get a closer view of it. The necklace is by Sophie Ratner Fine Jewelry.
Here's the post.
The necklace the Revival singer wore has a political significance. 1973 is the year when the Supreme Court gave the landmark judgment in the Roe v. Wade case, which allowed women the right to get an abortion in the United States.
If you go to Sophie Ratner's website, it is mentioned there that the necklace was designed in 2018 to "commemorate the 45th anniversary of the historic 1973 Roe v. Wade Supreme Court Decision." 30% of its sales from the necklaces and bracelets go to Physicians for Reproductive Health, which works to improve access to reproductive healthcare like contraception and abortion specially to those who are economically challenged.
Selena Gomez has been always speaking against the anti-abortion laws that are currently being passed in Alabama and other Southern states. This year the state of Alabama put a ban on abortion and Gomez took to her Instagram to express her outrage on the new legislation. She wrote, "It's no one's business what a woman chooses to do with her body. End of story. If you want to help fight this, click on the link in my bio to find out how you can volunteer or make a donation."
Also Read: What! Selena Gomez Deletes The Last Post With Justin Bieber From Her Instagram