Serena Williams banned from wearing black catsuit at French Open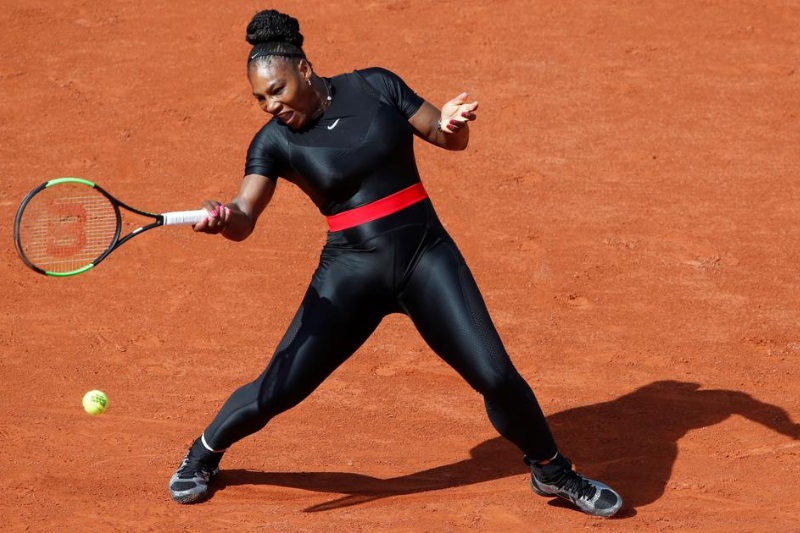 Serena William has been banned from wearing her all black outfit at the French Open after the organisers decided to introduce a dress code for next year's Ronald Garros tournament.
The outfit Williams called "Wakanda catsuit" was not fashionable but was also designed to prevent the blood clots after a haematoma – a swelling of clotted blood outside of a vessel – had been found in her abdomen following the birth of her daughter Olympia.
The 23-time Grand Slam champion had said that it made her feel "like a warrior princess" and gave her "an opportunity to inspire a whole different group of amazing women and kids."
Also Read: World Cup winning captain Hugo Lloris charged with drink and driving case
But now it seems that she might never have the chance of wearing it again after French Tennis Federation President Bernard Giudicelli heavily criticised her outfit and mentioned that it will not be allowed any further.
"It will no longer be accepted," said Giudicelli. "I believe we have sometimes gone too far. You have to respect the game and the place."
The remarks drew a huge uproar on social media with many criticising the French Tennis head for his allegedly racist remarks.
Clothing brand Nike, who had designed Serena's special outfit for medical reasons also joined the netizens in slamming the French Tennis federation and said, "You can take the superhero out of her costume, but you can never take away her superpowers."
You can take the superhero out of her costume, but you can never take away her superpowers. #justdoit pic.twitter.com/dDB6D9nzaD

— Nike (@Nike) August 25, 2018

While some rightly pointed out that Serena was not the first one to sport such kind of Cat outfit in Tennis, other slammed the federation for favouring white women and racial discriminatrion.
The idea that Serena Williams' catsuit signals she doesn't respect the game of tennis is ridiculous for a number reasons, but especially because her catsuit wasn't unprecedented. Anne White wore a catsuit back in 1985 at Wimbledon. pic.twitter.com/ekAzc9k1De

— Nadra Nittle (@NadraKareem) August 24, 2018
Anne White wore a catsuit in 1985.

Serena Williams is not allowed to wear one in 2019. pic.twitter.com/maSMckXo26

— Simon Hedlin (@simonhedlin) August 25, 2018
Another case of racism disguised as a "dress code".
Bernard Giudicelli, head of the French Tennis Federation French Open, said Serena Williams catsuit was inappropriate. But white female tennis players are at the French Open with their whole ass out, and that's ok pic.twitter.com/xYqnjHofJo

— Tariq Nasheed (@tariqnasheed) August 24, 2018
I hope Serena chooses not to return to the French Open for the rest of her career.

Mrs. Serena Williams, 23-time Singles Grand Slam Champion, greatest tennis player of all time, doesn't need to attend a tournament that is blatantly racist and misogynist.

— Golden (@mylessgolden) August 24, 2018
During the French Open I saw many White players who were nearly naked, but Bernard Giudicelli decides Serena Williams' catsuit was disrespectful?!?! What would powerful White people do if they didn't spend so much time policing Blackness? He is being disrespectful! pic.twitter.com/dHRBo5vShA

— I Block Bigots (@Fiorentina5) August 24, 2018
The French Open has banned Serena Williams' black suit, saying that, "I think that sometimes we've gone too far…One must respect the game and the place"

I *really* want to know how the outfit on the left is less "respectful" of the game of tennis than the outfit on the right pic.twitter.com/3iNUrkDd8y

— Mangy Jay (@magi_jay) August 24, 2018
Just ridiculous. Serena has done nothing BUT respect the game. Serena Williams is almost always singled out in tennis. This comes down to what they feel is "acceptable" on a tennis court. It's not her job to make you feel comfortable.
Also, the suit helps her combat blood clots. https://t.co/gR2XqJLi3j

— Taylor Rooks (@TaylorRooks) August 24, 2018

One user even drew a comparison to Roger Federer who had also in the past played wearing an all-black t-shirt and pants.
Roger Federer wears all black is celebrated and given "cool" nickname "Darth Federer"

Serena Williams wears all black is singled out by French Open president for criticism and has outfit banned from major Grand Slam pic.twitter.com/28ZES1riX4

— Dallas Hunt (@Dallas_Hunt) August 24, 2018
So Serena William's bodysuit is a problem but whit mini skirts and shorts aren't?

— Cee Barbie ??? (@ceetheunknown) August 24, 2018
Having had multiple pulmonary embolisms, Serena Williams is not allowed to use a specially designed black catsuit that helps prevents blood clots from developing in the legs. Because the French Open doesn't like how it looks. That's racist, sexist, and dangerous.

— Eugene Gu, MD (@eugenegu) August 24, 2018