Shah Rukh always praises me: Sukhwinder Singh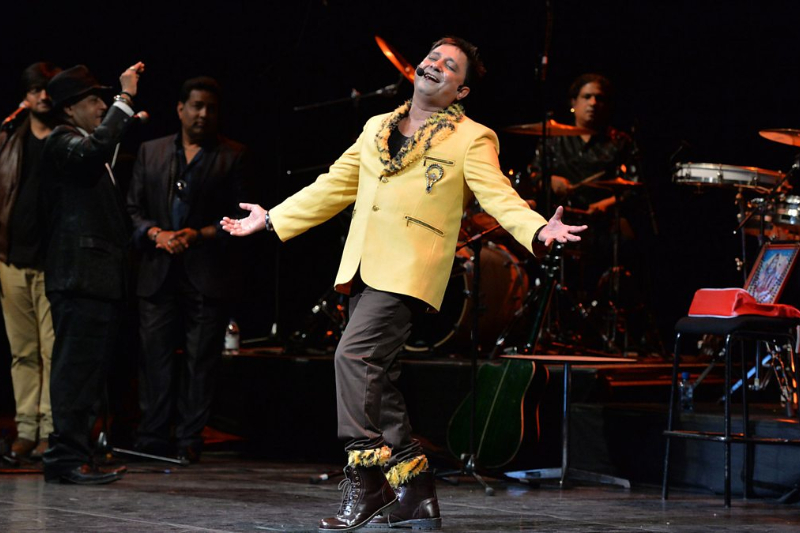 Sukhwinder Singh is still asked to sing Chaiyya Chaiyya from Dil Se at every stage show. But Sukhwinder's repertoire is filled with hit numbers. Name any film — be it Tiger Zinda Hai,  Slumdog Millionaire, Thugs of Hindostan or Zero — there is a Sukhwinder track. He tells Eastern Chronicle that he has sung a Bengali song too, and it will release next year. From Michael Jackson, YouTube singers to his fascination for yoga, Sukhwinder bares his heart in a candid interview. Excerpts:
'Kar Har Maidan Fateh' from 'Sanju' was an instant hit. How do you go about choosing the song?
I never try songs, the songs always try me. I believe I can sing any type of song- be it Haule Haule, Qayamat Qayamat or a ghazal like Chal Chal Mere Sang Sang from Astisva. Experience does work big time because since for the last 20 years, I'm here. I've sung for many Indian and international films also. When it releases in Japan, China, Pakistan or USA, these films become international too, but we don't acknowledge it. I remember the day of the premiere of Sanju. Ranbir Kapoor kissed on my forehead and hugged me.
You have sung 'Vashmalle Manzoor-E-Khuda' in 'Thugs of Hindostan'. But the film didn't win much appreciation from the audiences. Did that upset you?
Of course. I was very upset because the music of Thugs Of Hindostan is brilliant. I didn't understand why the production house (Yash Raj Films) unveiled the music of the film just three days before the theatrical release. They must have had something in their mind, but it didn't work out. Yash Raj people are really intelligent and talented. The film wasn't that bad. It has got its minus points but there are plus points too. Else how did it do a Rs 180-crore business? When I'm  performing these songs on stage, I'm getting fantastic response.
Whenever you have teamed up with Shah Rukh Khan, it's been a hit – from 'Chaiyya Chaiyya', 'Dard-E-Disco', 'Chak De India', 'Haule Haule', 'Marjaani', 'Udi Udi Jaye' to 'Isaaqbaazi' in 'Zero'. What is it that works so well with this pairing? And for which actor of the current generation do you enjoy doing playback for? (Cuts in) Everyone. Actually I am approached to sing for the characters which they play. If I follow Salman Khan, I will not be able to sing a single song. I will have to follow the character which he is playing on screen. In one year, I sung three different songs for SRK… and each one was completely different from Chak De India! I have also sung for Shahid Kapoor for Dhan Te Dan and Bismil Bismil (the latter from Haider earned him the National Award). SRK was my first hero. I heard my voice on screen and a boy was dancing on the train to my song. I was in love with this boy. Whenever we did stage shows together, SRK showered me with appreciation. I literally have to beg him to stop appreciating me so much on stage. But, whenever I get the opportunity to sing for any hero, I will sing. Meri aawaz unke zariye hi logon tak pohochti hain and I have great love and regards for them.
Which are some of the patent songs that you are required to sing at stage shows and do you rehearse every day?
I think people love 90% of my songs. My list is always more than 150 numbers and I get myself ready to sing any number. When I go on stage, I get an idea what the audiences can demand. I fulfil their expectations. Some of the popular songs are Chaiyya Chaiyya, Jai Ho, Chak De India, Banjara, Kar Har Maidaan Fateh and even Manzoor-E-Khuda. I don't depend on rehearsals. I do my rehearsals on stage. In future, when I start doing orchestral shows, I will be doing rehearsals. In any case, you will have to entertain people. That's it.
Your last album was 'Nasha Hi Nasha Hai' (2000). This year, you released a single, 'Nachungi Saari Raat'. Most composers and singers complain about the struggling  indie music scenario and some blame the radio channels, too, for playing so many Bollywood songs and fewer indie songs. Kindly comment and how many singles do you plan to record each year? Do the people understand the meaning of pop?
If you ask them, they always say they are recording a pop number. They don't know pop is a short form of popular. Pop came into being after Michael Jackson released HIStory. The album had 7-8 popular previous numbers. That is why HIStory was called a pop album. American or European films don't have songs in their films. Pop is a big trend thanks to Elvis Presley, Britney Spears, Whitney Houston, Mariah Carey, Lady Gaga, Shakira, Michael Jackson, Ricky Martin and others. Here it was a trend too, but around 20 years back. Then the digital platform came, and nobody understood what to do. Basically, it has become a platform only for the rich people. People who can record and picturise the song by themselves, they can only make albums. Many people who have money can't sing. To enter this world, you have to have money. No one's going to spend money on you. If I make an album, I will tell Ajay-Atul to compose for me, or I will request AR Rahman, Vishal-Shekhar, Vishal Bhardwaj and maybe I will go to Gulzarsaab and be on my knees and request him to write a song. It's all happening. An album of mine should be out around February or March. Now I won't be doing Nachungi Saari Raat type of song, it will be like Nasha Hi Nasha genre. Some people think indie pop doesn't exist now. It does, it's just the money factor which comes in between. Such people then seek help from YouTube. Radios play those songs which are hit and if they get Chaiyya Chaiyya or Jai Ho types, of course they'll keep playing.
If they get a mind-blowing content, then they'll not think twice before playing them and sharing them with all. Nasha Hi Nasha was played in all the radio stations. But, there's a problem… problem for singers who don't have money. Also, many people have entered the market through YouTube. Half the people who become popular through YouTube have a bad image. Just having muscles and good looks won't make your song a hit. Ultimately, it's the content of your singing that's going to make your personality. I'm known to be a 'very stylish singer'. I can only advise people to do some research on poetry research, if they don't read books and shayaris.
Read books by Dr Bashir Badr, Dushyant Kumar, you get shayaris in them. Radios have their own protocol, once they get a great content, they will play.
(The writer works with Eastern Chronicle, Kolkata)
Also read: Shah Rukh Khan and Amitabh Bachchan to share screen space in Badla?