Shah Rukh Khan' Doppelganger Spotted in Jordan: Fans Call "SRK 20-years From Now'
Shah Rukh Khan's fans are enchanted by the pictures of a man from Jordan who is a doppelganger of SRK.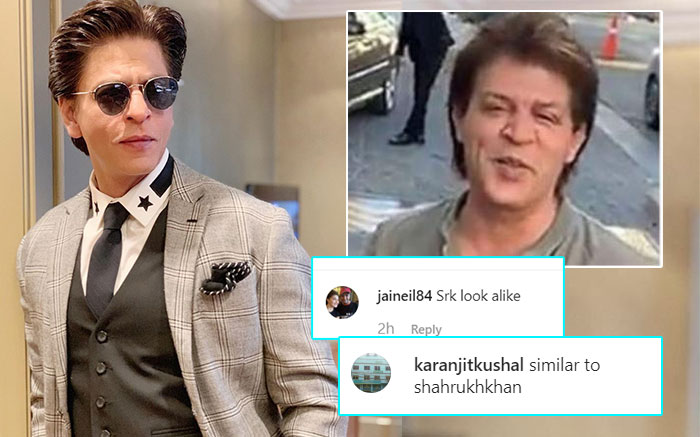 After Akshay Kumar and Abhishek Bachchan, netizens have finally found Shah Rukh Khan's doppelganger. Yes, fans of SRK have discovered his lookalike in Jordan. The pictures of Shah Rukh's lookalike was shared by his Instagram fan pages which went viral in no time on the internet.
If you look at the pictures of Shah Rukh's doppelganger, he is not exactly like Zero actor we have in India but yes he looks a lot like Shah Rukh. There are fans on social media claiming that Shah Rukh might look like him after 20 years from now.
In the viral photos, the man is seen walking in the streets while fans of SRK asks him for selfies. He looks quite happy after getting a lot of attention.
A fan of SRK wrote on Instagram, "Haha i thought he is srk," while another wrote, "Srk after 20 years from now." There are people on the internet calling him SRK's lost, twin brother.
Let's talk about who exactly the Shah Rukh's lookalike is? According to reports, he is a photographer named Akram al-Issawi. In an interview, Akram al Issawi said that he appreciates that he looks like Bollywood superstar but made it clear that he does like the word 'lookalike'.
You can watch his interview here:
On the professional front, Shah Rukh Khan has not announced his upcoming Bollywood film as of now. Shah Rukh will be next seen in an episode of My Next Guest with David Letterman on Netflix. Titled My Next Guest with David Letterman and Shah Rukh Khan, the episode will showcase actor sharing his story and journey starting from Delhi to becoming a superstar of Bollywood.
There are several reports claiming that the episode will release on October 11. However, an official announcement of the same is not made as of now.
We wonder if SRK knows about his doppelganger from Jordan.
Also Read: Shah Rukh Khan To Play Bill In The Hindi Remake Of Hollywood Film 'Kill Bill'?