7 Best Shah Rukh Khan Movies On Netflix, Amazon Prime Video And Zee5 With Awesome Debuts
SRK has worked with a lot of newcomers that went on to become big names in Bollywood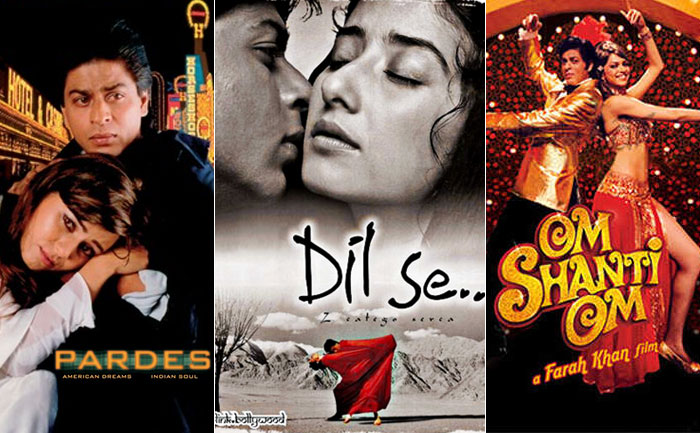 Shah Rukh Khan made his Bollywood debut in 1992. He has played a myriad variety of roles since then varying from the psychotic villain to the lovable boy next door. In his long career, SRK has worked with a lot of newcomers that went on to become big names in Bollywood. Here are 7 best Shah Rukh Khan movies on Netflix, Amazon Prime Video, and Zee5 that also marked the debut of the leading ladies.
Shah Rukh Khan Movies With Awesome Debuts
1. Om Shanti Om (Netflix): Deepika Padukone
No one could guess by looking at her performance that this was Deepika Padukone's debut film. She won the well-deserved Best Debut (Female) award for her performance. The actress starred opposite Shah Rukh Khan in a reincarnation story with a twist.
It tells the story of Om, a junior artist, who falls in love with Shantipriya, a famous actress, in 1970. However, they meet a tragic end before their story can really take off. The two star-crossed lovers are born again with a twist in the tale. This time it is Om who is the famous star. From here, the story becomes entwined with the past and the audience gets their fill of romance, thrill, and drama.
2. Baazigar (Amazon Prime Video): Shilpa Shetty Kundra
Shah Rukh Khan is known to mix it up in his movies and Bazigaar was no different. He let his dark side out in the 1993 flick Bazigaar which also marked the debut of one Shilpa Shetty Kundra. The film tells the story of a man hell-bent on seeking revenge. This was the first film Shah Rukh Khan and Kajol did together. The two shared an insane chemistry on-screen and went on to star in many blockbusters together.
3. Kabhi Haan Kabhi Na (Netflix): Suchitra Krishnamoorthi
Kabhi Haan Kabhi Na was a whimsical, happy-go-lucky film that marked the debut of leading lady Suchitra Krishnamoorthi. It told the story of Sunil (SRK) who is in love with Anna (Suchitra Krishnamoorthi) and is trying hard to impress her. However, Anna is already in love with Chris (Deepak Tijori). This prompts Sunil to create issues between the two. While he is successful, he realizes the error of his ways and brings the two of them back together. SRK proves his versatility through his performance as he would go on to do in his future movies. He won the Best Actor award for the film.
4. Pardes (Zee5): Mahima Chaudhry
Pardes was a sweet love story of two people stuck in unfavorable situations. It featured the debut of Mahima Chaudhry as well as Apurva Agnihotri. While Amrish Puri is the patriotic NRI dad in the film, Apurva Agnihotri plays his bratty, spoiled son. Kishorilal (Amrish Puri) wants his son Rajiv (Apurva Agnihotri) to marry Kusum Ganga (Mahima Chaudhry). However, things take a turn for the worst when Ganga finds out about the true nature of Rajiv.
5. Rab Ne Bana Di Jodi (Prime Video): Anushka Sharma
Rab Ne Bana Di Jodi was the debut movie of Anushka Sharma. Shah Rukh Khan movies are famous for their touch of magic and RNBDJ is no different. It tells the story of Suri and Taani who are married under less than idle circumstances. However, Taani meets the seemingly perfect guy in Raj Kapoor who becomes her dance partner for a contest.
6. Dil Se.. (Netflix): Preity Zinta
Dil Se.. was a melancholy, heart-wrenching story that tackles the sensitive issue of insurgency in Northeast India. Among all Shah Rukh Khan movies, Dil Se.. is perhaps one of the most poignant. It is the story of Amar (SRK) who meets a mysterious woman (Manisha Koirala) on his way to Assam. While Amar falls for her fast, she remains aloof and does not respond in kind. Meanwhile, Aman's family arranges his marriage with Preeti Nair who is played by the debuting Preity Zinta. However, this story does not have a happy ending much like a lot of Shah Rukh Khan movies.
7. Raees (Netflix): Mahira Khan
Shah Rukh Khan has proved that he can play the bad guy well through his movies. He set the pace in Darr and carried the bad guy mantle amazingly well in Don. In 2017, he flaunted his dark side again in Raees. The movie marked the debut of Pakistani actor Mahira Khan.