Sharmila Tagore on Kareena chat show: "Tomorrow, Virat and Anushka will have a child and Taimur might be relegated"
Here's what Sharmila Tagore opened up on What Women Want second season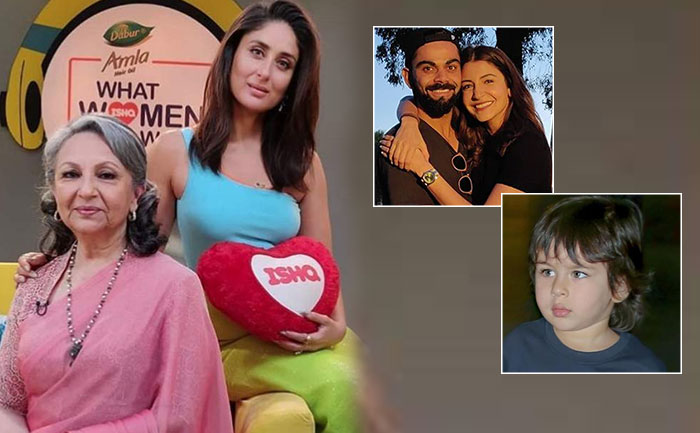 Evergreen veteran actress Sharmila Tagore lately showed concerns on the media attention at her grandson Taimur Ali Khan as she believed that it will shape the person he grows up to be. The actress and Kareena Kapoor hope that Virat and Anushka will have a child soon so that all the media attention goes away from Taimur.
"Tomorrow, Virat Kohli and Anushka Sharma will have a child and Taimur might be relegated." Sharmila said in an interaction with her daughter-in-law Kareena Kapoor Khan. To which Kareena replied, "I hope so."
Not only that the veteran actress who was the first guest in the second season of Kareena Kapoor's chat show spoke at length in What Women Want. Sharmila talked about the constant media attention around grandchild Taimur Ali Khan.
"Social media is a concern. Your child would be shaped by many influences. You won't be able to control those influences. Later on, when he is grown up enough to actually access social media, he will be bombarded with so much information. I feel what the media does is builds you up and then suddenly dumps you." she said.
Moreover, Sharmila Tagore also added that at the present age of Taimur now it didn't matter as he is really young. However, she further added that when he is seven or eight and he resumes to be a rage as he is at the moment and then he is dumped then it would really matter.
Also Read: Kareena Kapoor, Karisma, Saif Ali Khan Attend Armaan Jain And Annisa Malhotra's Roka Ceremony