Shashi Tharoor files criminal complaint against Ravi Shankar Prasad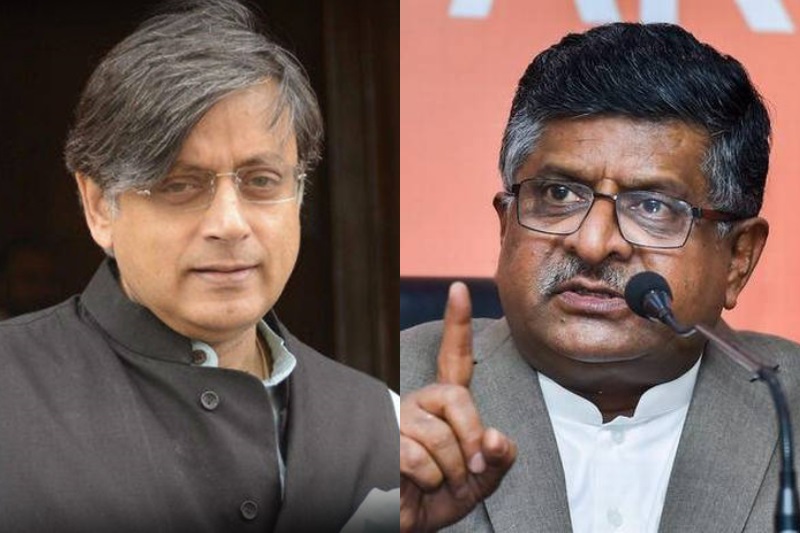 Senior Congress leader Shashi Tharoor on Monday morning filed a criminal complaint against Union Minister Ravi Shankar Prasad for making defamatory remarks against him. The complained has been filed in Thiruvananthapuram court.
It is to be noted that the criminal complaint comes over two months after a notice was sent by Tharoor's lawyer to Ravi Shankar Prasad over the video posted by him on his official Twitter handle on October 28 where the latter said, "Shashi Tharoor who is charge-sheeted in a murder case has attempted to disrespect Lord Shiva."
"Being the person who heads the Ministry of Law and Justice, the highest establishment of the Union Government responsible for the Law and Justice System of the country, yourself must be truthful, honest, correct and highly responsible for the public statements you make as the people view or read your statements will tend to relate such statements to the Office you hold and you are well aware of that fact," the notice read.
The Union Minister had made the statement during a press conference after Tharoor quoted an unnamed RSS source as saying that PM Modi was like a 'scorpion sitting on a Shiva Linga who cannot be removed by hand or hit with a chappal (slipper) either'.
In October, the senior Congress leader demanded an unconditional and written apology from Prasad within 48 hours. Tharoor had also asked for the video to be deleted. He further stated that the statements made by Ravi Shankar Prasad in the video was "false, untrue, malicious, and highly defamatory".
Also Read: PM Modi's rise from a humble background should make us proud: Shashi Tharoor