Rahul hugs PM Modi, Shatrughan Sinha says 'Khamosh' to motormouth netas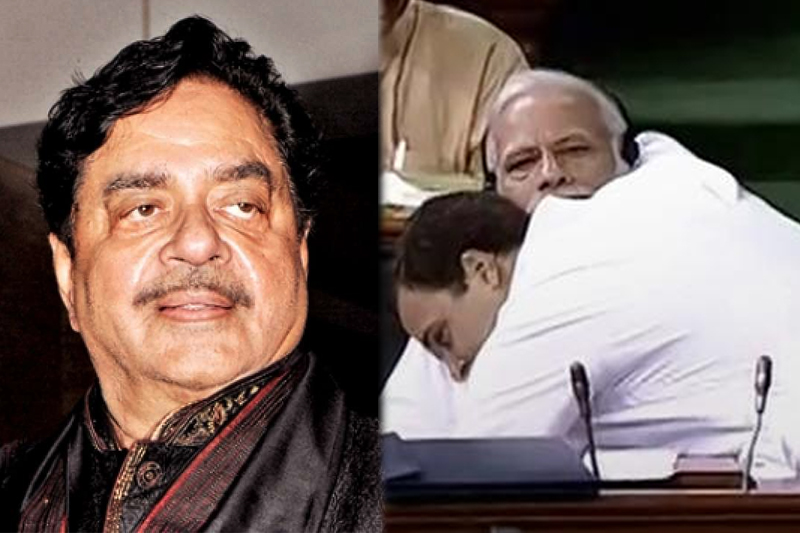 Bharatiya Janata Party MP from Patna Sahib Shatrughan Sinha has supported and congratulated Congress president Rahul Gandhi on embracing Prime Minister Narendra Modi after his speech in the Monsoon Session of the Parliament in Lok Sabha on Friday. Sinha sees nothing wrong in Gandhi hugging PM Modi and said that the matter is being hyped unnecessarily.
Speaking to the reporters and expressing his views on this, he said, "I was there. It's a good thing, when he (Rahul) hugged PM Modi, what is wrong in it? Even our PM hugs people whether they like it or not. He hugged Trump (US president Doland Trump), Barack Obama and even Israel's president too. So if Rahul ji (Rahul Gandhi) hugged our own Prime Minister, in our own House, what's wrong in it! It's a good thing."
When asked that this was against protocol, the 'Khamosh' actor questioned, "Isn't this incorrect that you (PM Modi) hug foreign country's premiers and Presidents! That is also against protocol, people say. And what protocol you are talking about, hasn't Rahul Gandhi's family contributed to the development of nation? The family has given many prime ministers to the country who guided India towards a positive direction and if the Gandhi scion hugs the premier after becoming emotional, it is a good thing. It's not a big matter."
Targeting the politicians who are politicising the issue, Sinha commented that it is not right to make issue of unimportant matters, when you (PM) practise the same thing. Have a look at the video for more details.