Ship launched in Kolkata to carry fuel to INS Vikramaditya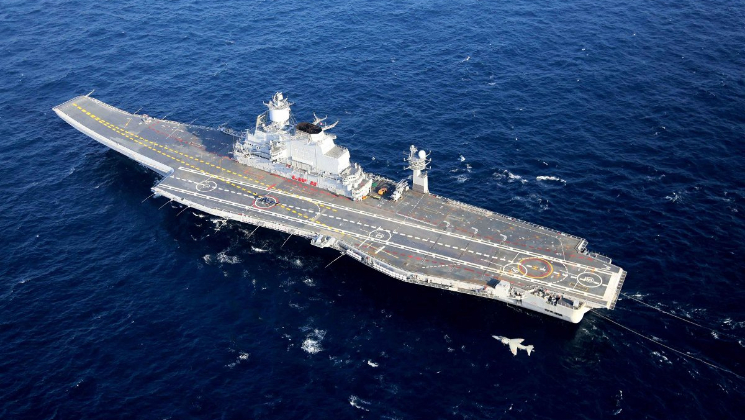 A 1,000-tonne barge, specially designed for carrying fuel mid-sea to the Indian Navy's flagship aircraft carrier INS Vikramaditya, was launched here on Thursday.
The ship, manufactured by city-based Titagarh Wagons, will depart for Mumbai dockyard of the Indian Navy for delivery, soon after various trials including machinery and speed trials.
The vessel will be formally handed over to the Navy at Mumbai in September, to be followed by the second one three months thereafter.
"This 68 metre long ship has a displacement of 2,000 tonnes and is vital for enhancing naval operations at sea by replenishing strategic assets like the aircraft carrier in the anchorage," a statement said.
With a maximum speed of 12 knots, this ship is capable of sustaining at sea for seven days, it said.
In May last year, the company commenced the construction of two 1,000-tonne fuel barges for the Indian Navy and two coastal research vessels for the National Institute of Ocean Technology under the Union Ministry of Earth Sciences at its shipyard near here.
The construction work for the other three vessels is in process, it said.
The company has also obtained new orders from the West Bengal government for building small boats and has participated in various tenders where the results should come out in the next six-eight months.
"These orders are likely to be from Indian Navy, Indian Coast Guard, Inland Waterways Authority of India, Shipping Corporation of India," it said.
The manufacturing firm had signed contracts of Rs 100 crore and Rs 75 crore with the National Institute of Ocean Technology under the Ministry of Earth Sciences and the Ministry of Defence (Navy), Directorate of Ship Production respectively.
It is drawing up the layouts and planning the facilities of the next phase of ship building at Kulpi, the company said.