Chanting 'Jai Shri Ram' slogans, nearly 1,500 Shiv Sainiks leave for Ayodhya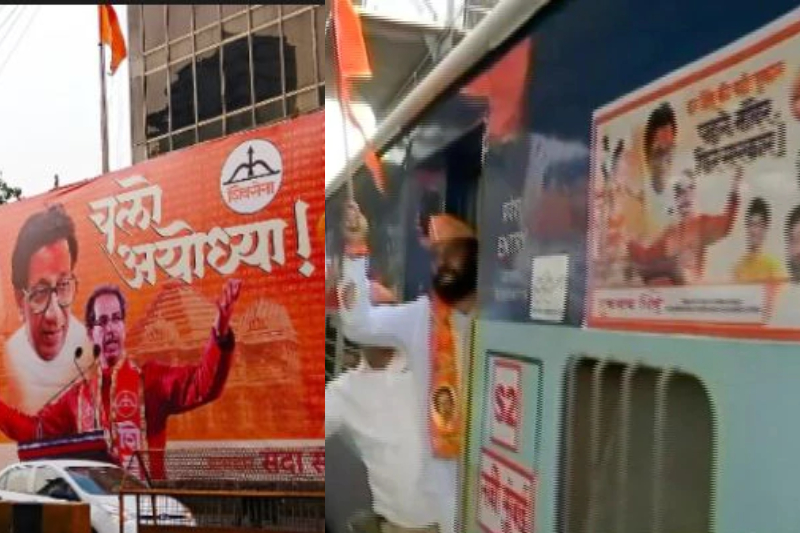 Chanting 'Jai Shri Ram' slogans and carrying posters that featured Lord Ram, Shiv Sena president Uddhav Thackeray, with nearly 1,500 Shiv Sainiks on Thursday left for Ayodhya from Mumbai in the special train.
The special train carrying 1,500 Shiv Sainiks is expected to reach Ayodhya on Friday evening. Before the journey began, Shiv Sena coined a new slogan, especially for the Ayodhya visit – 'Har Hindu ka yahi pukar, pehle mandir phir sarkar' (every Hindu has only one calling, first the temple then government).
Talking to reporters, Shiv Sena leader Naresh Mhaske said, "This government has failed on its promise to construct a grand Ram temple in Ayodhya. They came to power on the promise of Ram temple, but in the last four and half years it has not done anything for the Ram temple. Our party president Uddhav ji is going to Ayodhya to remind the Modi government of its promise."
Interestingly, the contingent also had a large number of north Indian workers who were enthusiastically shouting slogans of 'mandir wahi banyenge'.
Interacting with reporters, Shiv Sena leader Hemant Pawar said, "There is no need to deliberately woo the North Indian voters. As Hindus, they have always been with the party and now they also understand who really cares for Hindus and who only does lip service."
Meanwhile, Shiv Sena office bearer from Navi Mumbai Lakshman Bundela said, "Balasaheb was the true leader of Hindus. He was Hindu Hriday Samrat. We believe that his son Uddhav will only give justice to the issue of Ram Temple. We have high hopes from him."
Earlier in the day, Shiv Sena President Uddhav Thackeray visited Shivneri Fort in Pune district, the birthplace of Maratha warrior king Chhatrapati Shivaji Maharaj. He collected soil from the fort, which he will carry to Ayodhya.
He also took a dig at BJP saying that the Ram temple issue is raked up before every election and wondered for how long will people be 'fooled' with the 'mandir wahi banayenge' slogan.
It is to be noted that Uddhav Thackeray had announced during the Shiv Sena's Dussehra rally in Mumbai that he will visit Ayodhya on 25 November and question PM Modi on the issue of the construction of the Ram temple.
Also Read: Uddhav Thackeray: BJP fool people with 'mandir wahi banayenge' slogan before elections