Shiv Sena, AAP received highest donations among regional parties in FY17: ADR report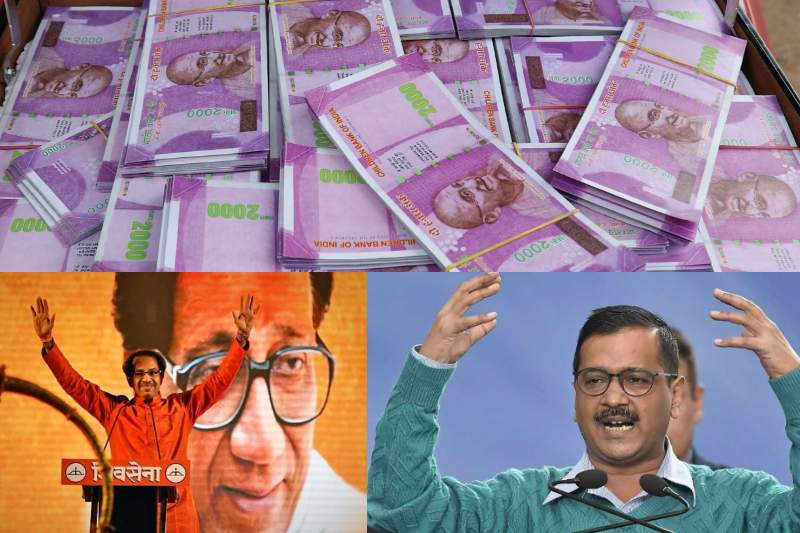 Political parties across the world are known for taking donations to run their organisations since decades. In India too this trend is not new. In a latest research, Shiv Sena has emerged as the regional party receiving maximum donations in the financial year 2016-17. The research report was released by election watchdog Association for Democratic Reforms (ADR) on Tuesday.
According to the report, as published in ThePrint, Shiv Sena received Rs 25.65 crore from 297 donations. Following the suit, Aam Aadmi Party received Rs 24.73 crore from 3,865 donations and Shiromani Akali Dal (SAD) churned Rs 15.45 crore. The report further states that 48 regional parties were surveyed, but only 25 declared declared their donations secret.
ADR stated that eight regional parties – AAP, SAD, Janata Dal (Secular), Maharashtra Navnirman Sena, Rashtriya Lok Dal (RLD), Sikkim Democratic Front, Asom Gana Parishad (AGP) and Naga People's Front (NPF) – agreed that their party's donations increased between FY 2015-17 and 2016-17.
In the report,  it was revealed that AGP's donation increased by 7,183% and Akali Dal's donations increased by 5,842%. Among the states that contributed the most include Delhi – Rs 20.86 crore, Maharashtra – Rs 19.7 crore and Punjab – Rs 9.42 crore. Interestingly, Shiv Sena reported a decline of Rs 61.19 crore from Rs 86.84 crore in FY 2015-16.
ADR report also state that out of the 25 regional parties, 18 didn't submit PAN details of donors. Among the parties, only eight followed the time schedule, while other delayed it to a maximum of 8 months to 2 days. The eight regional parties submitting details on time include – All India United Democratic Front (AIUDF), Desiya Murpokku Dravida Kazhagam (DMDK), Jharkhand Mukti Morcha (JMM), NPF, SAD, Telegu Desam Party (TDP), Samajwadi Party (SP) and RLD.
Shiv Sena, which received the maximum donations, filed their report after four months, while Dravida Munnetra Kazhagam (DMK) took two months. AAP delayed the submission by over four and a half months. There were other like Indian National Lok Dal (INLD) and Indian Union Muslims' League (IUML) who have still not filed their donation report.
According to the Election Commission of India's notification – dated August 29, 2014 – there would be no tax deduction on cash contributions. But, Rs 2.82 crore from 1,919 donations was received in cash during FY 2017, reports ThePrint. 
The ADR had urged all the parties to fill the complete form, with correct information. The organisation had recommended that those parties not submitting the details would be penalised, citing September 2013 Supreme Court judgment.
The report states, "The national and regional political parties must provide all information on their finances under the Right to Information Act. This will go a long way in strengthening political parties, elections and democracy."