Shiv Sena hits out at NCP Chief Sharad Pawar for playing 'dangerous politics'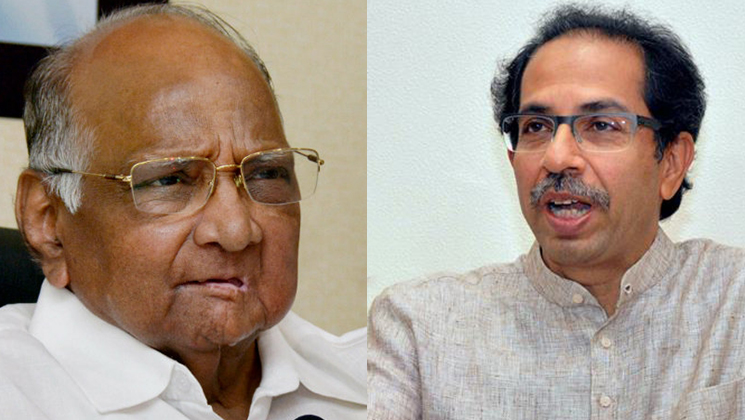 The Shiv Sena on Wednesday has criticised Nationalist Congress Party (NCP) chief Sharad Pawar for playing "dangerous" politics and alleged that it is "destabilising" social harmony in the state of Maharashtra.
The Sena accused the former Chief Minister of Maharashtra in an editorial in its mouthpiece 'Saamana', following Pawar's comments that people arrested for inciting the Bhima-Koregaon violence earlier this year were innocent. Pawar made this statement last week while speaking at a function to mark the 19th anniversary of his party.
It does not befit a former chief minister to pose hurdles in police investigations into the Bhima-Koregaon violence, the editorial said, even as it wondered whom Pawar was trying to protect. "What Sharad Pawar does is his outlook, but his politics is destabilising social harmony in the state," the editorial said, questioning the grounds on which Pawar has made claims that those caught by the police for instigating riots in Bhima-Koregaon were not involved.
According to a report in Hindustan Times, the Sena has criticised Pawar for not coming out "on the streets" to calm people when "Maharashtra was burning" after the Bhima-Koregaon incident. "Instead of coming in front of cameras and asking people to maintain peace, Pawar blamed the Hindutva organisations for the violence," as alleged by Saamana.
The editorial mentioned the 93 Mumbai riots, when Pawar was Maharashtra's chief minister and he visited the Bombay Stock Exchange and inaugurated the restart of trading, especially when the city was engulfed in communal tension. They accused him of "failing to set things in order after the blasts and let Maharashtra burn".
The editorial urged the people of Maharashtra to be "cautious" and said communal tensions could "polarise votes", as it did in the case of elections held after communal tensions in Muzaffarnagar and Kairana in Uttar Pradesh.