Chhichhore actress Shraddha Kapoor joins protest to save Mumbai's Aarey forest
Shraddha Kapoor went live on Instagram urging her more than 33 million followers to support her in a campaign to save Mumbai's Aarey forest.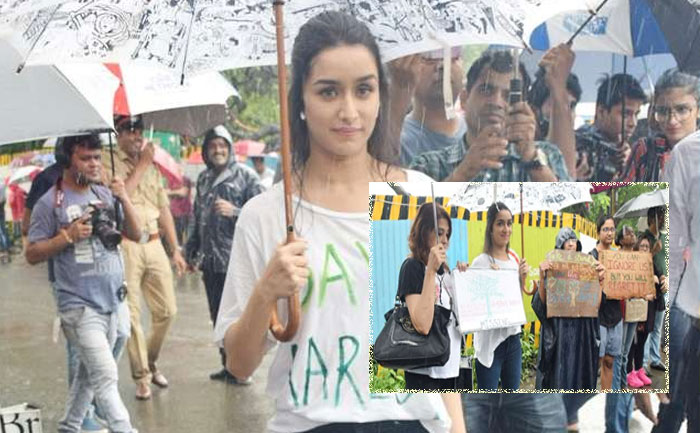 Saaho actress Shraddha Kapoor joined the protest asking authorities to stop chopping off trees in Mumbai's Aarey forest. The Bollywood diva did not only join the protest but she stood among the commoner and shouted slogans to save Aarey as well.
Creating awareness about the same, Shraddha Kapoor decided to go live on Instagram asking her more than 33 million followers to support her in a campaign to save Mumbai's Aarey forest.
Notably, Brihanmumbai Municipal Corporation (BMC) had given permission for the axing of the 3,000 trees for Mumbai car shed project, which has completely shaken the millions of Mumbaikars.  More so, the Tree Authority of BMC permitted Mumbai Metro Rail Corporation (MMRC) to cut 2,232 trees from the locality, while 469 trees are planned to be relocated for the construction of car service.
Sharing the picture of her from the protest on her Instagram, Shraddha wrote, "Trying to do my bit. Went live on my insta sometime back to show you all how so many people have come together to stand up against this. 2700+ trees are slated to be chopped down for the Metro. Unacceptable. Shocking. As if we don't have enough environmental issues already. As if Mumbai doesn't have enough pollution already. And permission is granted to chop off the lungs of the city. This HAS TO STOP.
#SAVEAAREY #TRYYOURBITFORTHEENVIRONMENT @aareyforest ❤️"
Apart from Shraddha Kapoor, Tiger Shroff was also among the Hindi film industry, who came forward to support the cause, even if he could not make his appearance physically.
On one side Mumbaikars are protesting to save Aarey, 3,000 trees are being felled for the widening of the Bhiwandi bypass on the Majiwade to Vadape section of the Mumbai-Agra highway. According to Mumbai Mirror, the forest department has already given permission for the axing of the trees in its jurisdiction in July. The axing of trees has already begun in Vadape and Kalyan junction.
On the professional front, Shraddha Kapoor, who was recently seen in Saaho, will next be seen in Chhichhore opposite Sushant Singh Rajput. The film is scheduled to hit the theatres on 6th September 2019.
Also Read: WHAT? Has Shraddha Kapoor Really Charged Rs 7 Crore For 'Saaho'? Find Out