Shunted Police Commissioner Param Bir Singh Writes Tell All Letter to Maharashtra CM
Maha Home Minister Anil Deshmukh Wanted Rs 100cr A Month': Top Cop Param Bir Singh's Writes In a Letter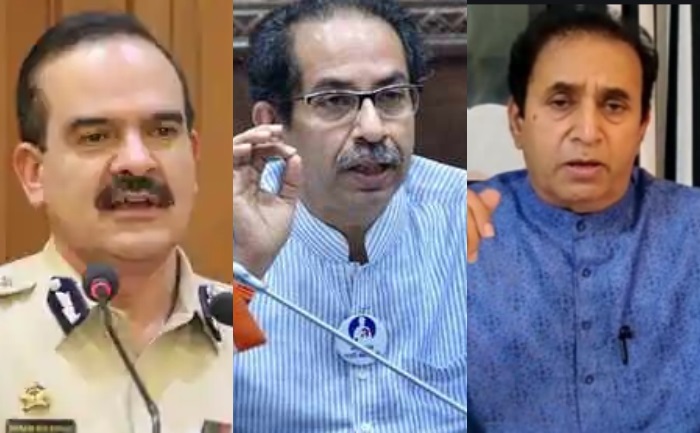 Former Commissioner of Mumbai Police Param Bir Singh stirred a hornet's nest with an explosive letter. The shunted cop sent a letter to Maharashtra Chief Minister Uddhav Thackeray. He alleged that the state Home Minister Anil Deshmukh had asked controversial cop Sachin Vaze to collect Rs. 100 crore every month. The money was to be collected from bars, restaurants and other establishments. Anil Deshmukh soon issued a statement denying the allegations.
But Uddhav Thackeray reportedly said that the authenticity of the letter itself was under question as it was not signed by Parma Bir. The unsigned letter was not sent by his official account, so it is possible that the letter is fake. The letter was received from paramirs3@gmail.com while the official email ID given by Param Bir to the government was parambirs@hotmail.com.
Check out the tweet here:
.@CMOMaharashtra is trying to contact Parambir Singh and checking the authenticity of the letter. The letter received from paramirs3@gamil.com email id while official I'd given by Parambir Singh is parambirs@hotmail.com I'd to state govt
@NewIndianXpress pic.twitter.com/4Fh2P34kj2

— Sudhir Suryawanshi (@ss_suryawanshi) March 20, 2021
Home Minister issued another statement rubbishing the allegations. He accused Singh of hatching a conspiracy. It was to defame him and the Maha Vikas Aghadi government.
He wrote, #Param Bir Singh's allegations are absolutely baseless and he should prove his allegations against me. I am filing a defamation lawsuit against him. When Singh realised he is in trouble with respect to the Antilia bomb scare, he started making false allegations so as to blackmail the government."
Soon after Anil Deshmukhs's statement shunted cop Param Bir Singh told the media that the letter was authentic. He added that he was sending another copy, duly signed by him, to the government.
Check out Param Bir's signed letter here:
For all the doubters, the signed copy of #ParambirSingh letter is here. #ParambirSinghLetter pic.twitter.com/visB1jMJl0

— Megha Prasad (@MeghaSPrasad) March 20, 2021
Param Bir Singh was removed as Police Commissioner of Mumbai and appointed Commandant General of Home Guards (Maharashtra) by the state Home Department. The decision was made in light of the probe into the Antilia bomb scare and subsequent death of car dealer Mansukh Hiren. In both of these cases, which are now being investigated by the NIA, 'encounter specialist' Sachin Vaze is a key suspect.
Also Read: Antilia Bomb Scare: Mumbai Police Commissioner Param Bir Singh Transferred