Iceland: Fagradalsfjall Volcano Erupts Near Capital Reykjavik
Iceland volcano: eruption under way in Fagradalsfjall near Reykjavik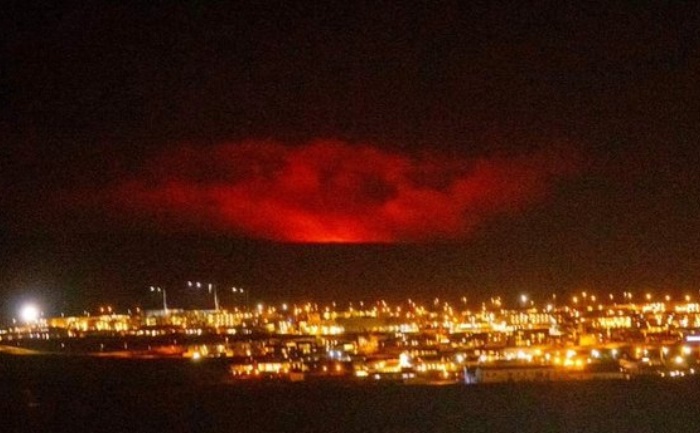 Fagradalsfjall Volcana erupted just 40 kilometres (25 miles) from Iceland's capital Reykjavik on Friday. It turned lit up the night sky colouring it crimson. Photos showed a red glow over the volcanic summit, which could be seen for miles in the night sky. The Icelandic Meteorological Office said that according to the initial information, the fissure is about 200 metres long.
It's happening 🌋#Iceland #Volcano pic.twitter.com/A6sHQUqTV8

— Hannеs Hauswеdеll (@__h2__) March 19, 2021
More than 40,000 earthquakes have occurred on the peninsula in the past four weeks. The eruption posed no immediate danger to people in Grindavik or to critical infrastructure, according to the Icelandic Meteorological Office (IMO). The Department of Civil Protection and Emergency Management urged residents to stay calm and warned against approaching the volcano and obstructing emergency services on site.
Incredibly beautiful lava flow, away from people/civilization, and no interruption to air travel. This is the best kind of eruption 🌋 🇮🇸 #IcelandVolcano https://t.co/JxZaoakC35

— Sif (@IceSif) March 20, 2021
The Fagradalsfjall volcano is one of the 30 volcanoes of Iceland and is located about 30 km away from Reykjavik on the south-western tip of Iceland. The eruption is relatively small so far, with lava flowing in opposite directions, and this is the first volcanic eruption in the region in nearly 800 years.
Video of the eruption of the "Fagradalsfjall" volcano that happened yesterday evening in #Iceland. The eruption is relatively small so far, with lava flowing in opposite directions, and this is the first volcanic eruption in the region in nearly 800 years.#icelandvolcano pic.twitter.com/LTwIf9EU2k

— Ahmad Algohbary (@AhmadAlgohbary) March 20, 2021
Also Read: Hawaii: Kilauea Volcano Erupts On Big Island With A Roar