Sitaram Yechury parry questions on 2019 anti-BJP front's name, says wait for right time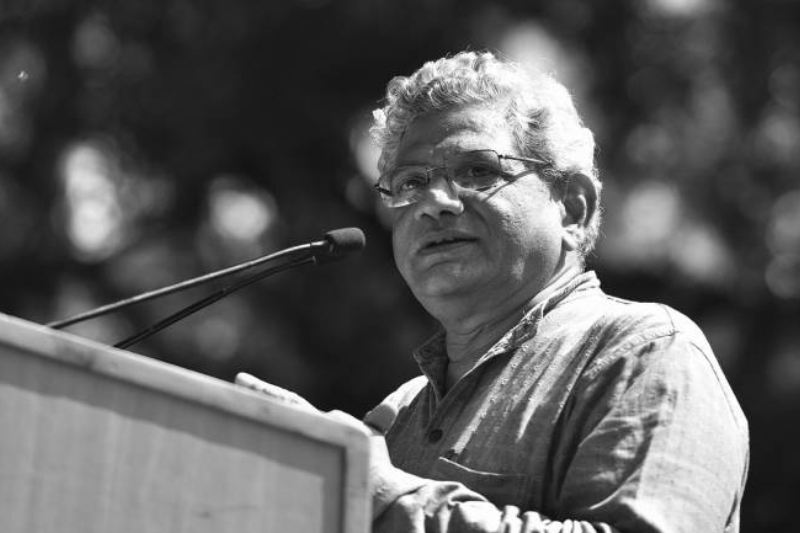 The general elections for 2019 are barely months away and all the parties have started their preparations in order to strengthen their base. BJP is all set with its Sampark for Samarthan programme, while others are looking for options under the term 'mahagatbandahan'. However, Communist Party of India Marxist leader Sitaram Yechury, confirms that an alternative is formed, but wont say it right now.
Giving an indication that there is a high possibility of an alliance between secular political parties to form the government post 2019 Lok Sabha polls, he said that he knows the name of the front, but won't spill the beans from the bag.
ALSO READ: Nitish Kumar's party to contest state polls without BJP
Addressing a news conference in Kolkata, the politburo member said that even if he knows the name, he won't tell it now. He said, "Even if I know the name I won't tell you now," adding,  "But whatever is formed after 2019, it will be an alternative secular government. That will only be formed after the elections." When asked by a reported that the alternative front has a name to which the Marxist leader replied, "Not a word more."
Known for his choice of words and its clarity, former JNUite turned politician confirmed that there is no possibility of a "mahagathbandhan" or Grand Alliance before the elections, reasoning  the diversity of the nation.
When requested to elaborate more, the Marxist leader said, "The United Front government in 1996, the UPA (United Progressive Alliance) in 2004 were formed after the elections. This time – even if I know the name, I won't tell you now – whatever is formed after 2019… there will be an alternative secular government of India. But that will only happen after the elections."
ALSO READ: Early polls likely in November, predicts Deve Gowda
Yechury made it clear that the party will support an alternative secular democratic front government from outside and will be part of the formation. But as Mamata Banerjee too has voiced against BJP and is leading the front for joining political parties into an agreement, Yechuri did not want to comment on her. He said, "In Bengal what's the slogan? Oust the Modi government, save India. Oust the Mamata government, save Bengal."