Solar Eclipse 2020 Date, Time, When & where to watch the spectacular Ring Of Fire
Solar Eclipse 2020 Date, Time, When and where to watch the spectacular Ring Of Fire and its effect on Zodiac Signs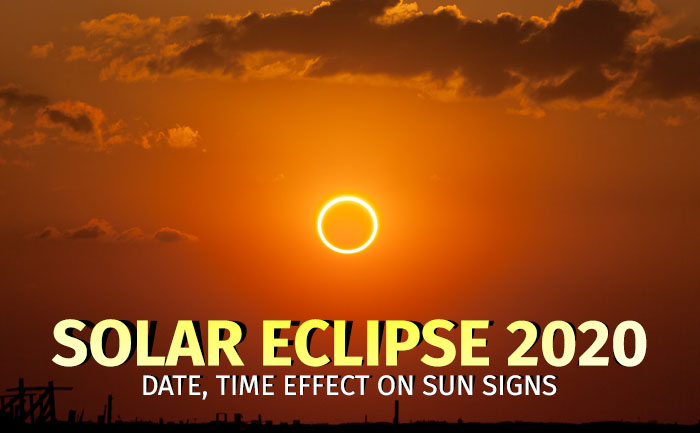 The world is all set to witness the first annular solar eclipse of 2020. The solar eclipse occurs when the Sun, the Moon, and the Earth form a straight line. The Moon comes between the Sun and the Earth and blocks the rays of Sun from reaching the planet.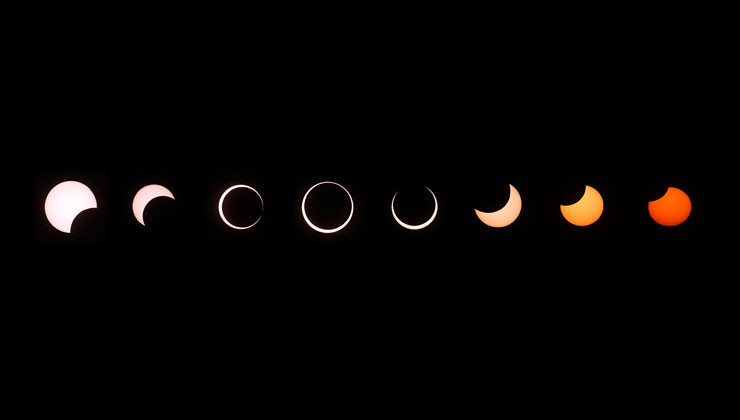 A solar eclipse happens during the New Moon. There are three types of such eclipses — total, partial, and annular. The first solar eclipse of the year 2020 will happen next week on June 21, 2020. It will be an annular solar eclipse where the Moon will cover the Sun from the centre leaving the outer rim visible. This creates a ring of fire. The reason for this occurrence is the size of the moon. It is not big enough to entirely cover the Sun.
The 'ring of fire' can best be seen, just for a minute, from Suratgarh and Anupgarh in Rajasthan, Sirsa, Ratia, and Kurukshetra in Haryana, and Dehradun, Chamba, Chamoli and Joshimath in Uttarakhand..
This year there are two solar eclipses one in June the other in December.
Different Types of Eclipse:
Partial Eclipse – Partial eclipse happens when the Moon comes between the Sun and Earth, but the Moon only partially covers the Sun's disk.
Annual Eclipse – Annular Solar eclipse happens when the Moon covers the Sun's centre leaving the Sun's visible outer edges to form a ' ring of fire' or annulus around the Moon.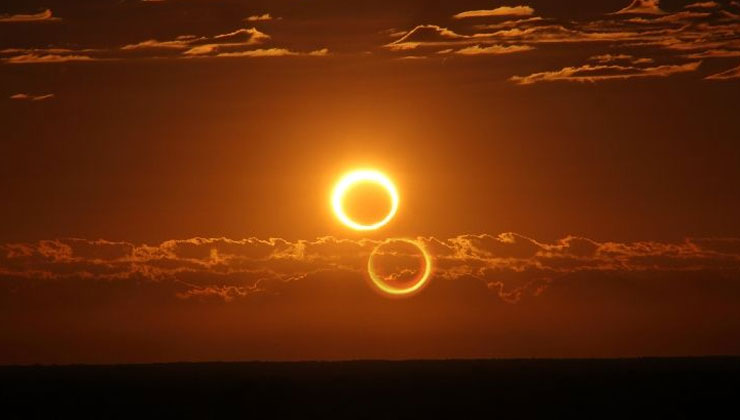 Total Eclipse – Total solar eclipse occurs when the New Moon comes between the Sun and the Earth and casts the darkest part of its shadow, the Umbra, on Earth. A full solar eclipse known as totality is almost as dark as night.
Hybrid Eclipse – A hybrid eclipse is a rare type of solar eclipse that changes its appearance as the Moon's shadow moves across the Earth's surface.
Here is all you need to know about the Annular Solar Eclipse of 2020: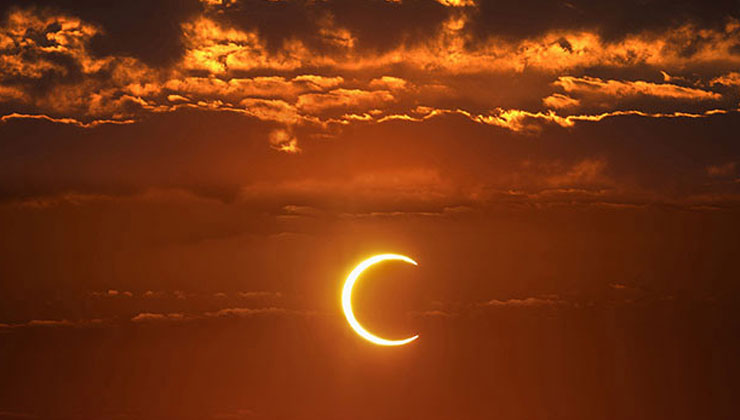 Solar Eclipse Time & Date:
The Annular Solar Eclipse will take place on June 21, 2020. The last one took place on July 2, 2019, and the next will take place on June 10, 2021.
As per timeanddate.com:
The June 21 solar eclipse will start at 9:15 am as per Indian Standard Timing (IST).
The full eclipse will start at 10:17 pm and the maximum eclipse will occur at 12:10 in the night.
The full eclipse will end at 2:02 pm
The solar eclipse will end at 3:04 pm on June 22, 2020.
Total duration of the eclipse: 3h 16m


Where to watch:
As per timeanddate.com, the event will be visible in India as well as much of Asia, Africa, the Pacific, the Indian Ocean, and parts of Europe and Australia. If the skies are clear people from these regions will be able to watch the spectacular ring of fire.
From India, the annular phase will be visible in the morning from some places within a narrow corridor of the northern part of the country (parts of Rajasthan, Haryana, and Uttarakhand) and it will be seen as partial solar eclipse from the rest part of the country.
Precautions: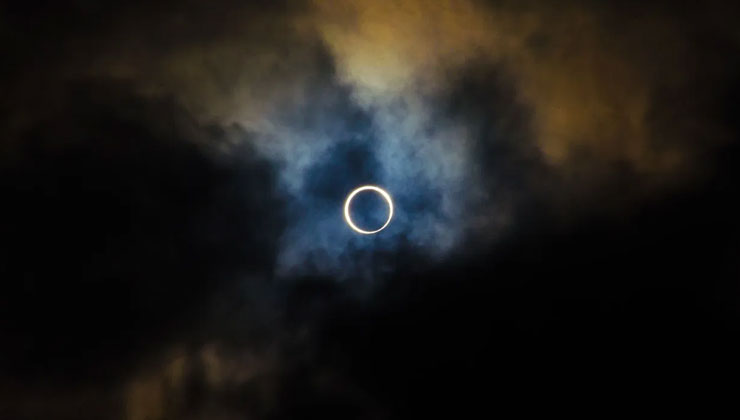 One can take the following precautions during the occurrence of a Solar Eclipse:
1. One must not look at the sun directly as it can cause loss of vision or distorted vision.
2. Observers should use binoculars, a telescope or optical camera viewfinder
3. Ordinary binoculars or telescopes should not be used.
4. It is believed that an eclipse is a great period to indulge in meditative practices
5. As per the religious beliefs, many people in India don't worship or visit the temple during this time.      Many people fast during this celestial event.
Effects On Sun Signs: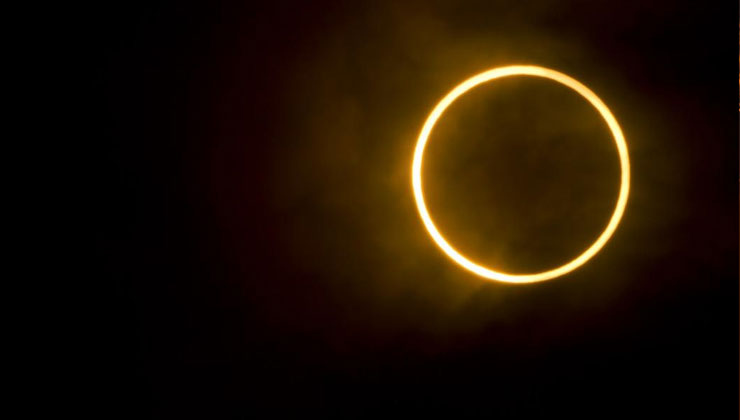 Aries
Solar Eclipse can create some positive aspects for Aries in terms of Money, Job, and Opportunities. But it is also a time where Criticism is bound to happen. You need to keep communication alive with influential persons. Read Bhagwad to get positive results.
Taurus
Taurus can relax for any unresolved inheritance issue has a real chance of solving. Family-related expenses are to increase. You need to take due care of your eyes. Chant the Lakshmi mantra 'Om Lakshmyai Namah'.
Gemini
Solar Eclipse has some favorable conditions for Gemini. But there are some unfavorable effects to be seen in your married life. Expenses may rise as there is a chance of some major health issues. Chant Shiva mantra to get fruitful results.
Cancer
This time of the year is favorable to you. There's a chance of an increase in income. But there are chances of sudden expenses too. You need to remain careful about health. Do not neglect even a minor issue. Worship Lord Vishnu for protection.
Leo
This can be the time when you gain a lot of attention from the people at any social gathering, so use your charm wisely. You are to develop a more friendly relationship as an after effect. You remain in a sound position on the financial front. Recite Gayatri Mantra
Virgo
Virgo's will be burdened with responsibilities from their families. Take due caution while lending credit to new customers. A close relative might end up with a big and serious health issue. You are suggested to stay calm. Read "Shrimad Bhagwat Katha" for better results.
Libra
You're going to be completely satisfied in your life. But your relationships with your siblings might be a little unpleasant. There might be trouble traveling, so drive safely. Issues related to the respiratory system needs to be attended promptly. Read Hanuman Chalisa for protection.
Scorpio
It is an excellent time for monetary gains. It is also a great time to expand your family and will lead to positive production. Health may shine but those suffering from respiratory ailments may need to consult a physician. Read Ganesh Puran for peace.
Sagittarius
This is an excellent time to form some new relationships and invest in them. There is a high chance of financial imbalances, which can lead to adverse effects. Refrain from junk food as they may grow susceptible to viral infections. Finance and domestic issues may grow vulnerable. Chant 'OM' mantra.
Capricorn
This is that time where you are fulfilled spiritually. Working on any task will lead to favorable conditions. There is an inconvenience sensed in the planning of a family trip. health may suffer as past ailments may crop. You should recite "Hanuman Chalisa".
Aquarius
Any pending plans will be successfully executed. This is the time when you need to maintain your cool and stay calm. This can be a major breakthrough for them as they may successfully come out of a stuck situation. Recite "Hanuman Chalisa" to fulfill your desires.
Pisces
You might be able to maintain good health and hygiene at this phase. The only unfavorable condition is that your relationship with your superiors might take a U-turn. Financial stability may make it easy for you to strike the balance. Read Durga Chalisa.
Solar Eclipse Timings in Delhi, Mumbai, Bengaluru, Kolkata, and Chennai:
Solar eclipse Delhi:
Partial Eclipse Begins: Sun, 21 Jun 2020, 10:20
Maximum Eclipse: Sun, 21 Jun 2020, 12:01 0.95 Magnitude
Partial Eclipse Ends: Sun, 21 Jun 2020, 13:48
Duration: 3 hours, 29 minutes
Solar eclipse Mumbai timings:
Partial Eclipse Begins: Sun, 21 Jun 2020, 10:00
Maximum Eclipse: Sun, 21 Jun 2020, 11:37 0.70 Magnitude
Partial Eclipse Ends: Sun, 21 Jun 2020, 13:27
Duration: 3 hours, 27 minutes
Solar eclipse Bengaluru:
Partial Eclipse Begins: Sun, 21 Jun 2020, 10:12
Maximum Eclipse: Sun, 21 Jun 2020, 11:47 0.47 Magnitude
Partial Eclipse Ends: Sun, 21 Jun 2020, 13:31
Duration: 3 hours, 19 minutes
Solar Eclipse Kolkata:
Partial Eclipse Begins: Sun, 21 Jun 2020, 10:46
Maximum Eclipse: Sun, 21 Jun 2020, 12:35 0.73 Magnitude
Partial Eclipse Ends: Sun, 21 Jun 2020, 14:17
Duration: 3 hours, 31 minutes
Solar eclipse Chennai:
Partial Eclipse Begins: Sun, 21 Jun 2020, 10:22
Maximum Eclipse: Sun, 21 Jun 2020, 11:59 0.46 Magnitude
Partial Eclipse Ends: Sun, 21 Jun 2020, 13:41
Duration: 3 hours, 19 minutes
Also Read: Lunar Eclipse 2019: How Chandra Grahan Will Affect You Based on Your Zodiac Signs