Somalia Hotel Siege: 26 dead as gunmen storm Somali hotel
26 were killed in hours-long al-Shabab hotel siege in Somalia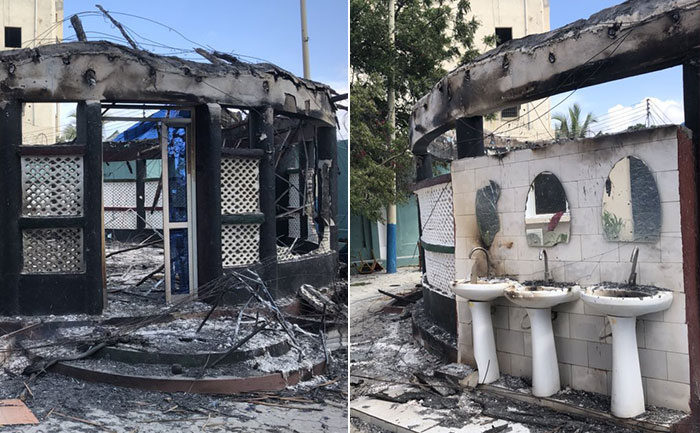 The death toll from Somalia's Kismayo hotel attack rose to 26 and the injured were more than 50. The victims included Kenyans, Americans, a Briton, a Canadian and Tanzanians. The attack was carried out by al-Qaeda-linked al-Shabab.
As reported by BBC, Al-Shabab members stormed the hotel after detonating a car bomb on Friday while local elders and legislators met to discuss approaching regional elections. A presidential candidate for upcoming regional elections was also killed in the attack. Two journalists were also among the dead; Somali-Canadian Hodan Naleyah, founder of Integration TV, and Mohamed Sahal Omar, a reporter from SBC TV in Kismayo.
Regional politicians and clan elders were inside the hotel discussing a forthcoming regional election when the attack began. Witnesses said they heard a huge blast before several heavily armed men forced their way in.
Somalia's security forces ended the overnight attack by the group in the southern port city after an hours-long siege.
"The operation is over. The four attackers were shot dead," police officer Major Mohamed Abdi told Reuters news agency by telephone from Kismayo.
Al-Shabab, which is trying to topple the Somali government, said it carried out the suicide attack.
Abdiasis Abu Musab, al-Shabab's military operations spokesman said, confirned that, "First, we targeted [the hotel] with a suicide car bomb and then armed mujahideen [fighters] stormed the hotel."
The attack is the latest in a long line of bombing and assaults claimed by the Al-Qaeda-linked group. The militants have been carrying out regular attacks in the capital Mogadishu, despite the heavy presence of African Union peacekeepers and US-trained Somali troops.
Al-Shabab is affiliated with al-Qaeda and remains a powerful presence in rural Somalia.
Also Read: Somalia: Double suicide bombing claim lives of 17 civilians, 70 others wounded