Somalia: Double suicide bombing claim lives of 17 civilians, 70 others wounded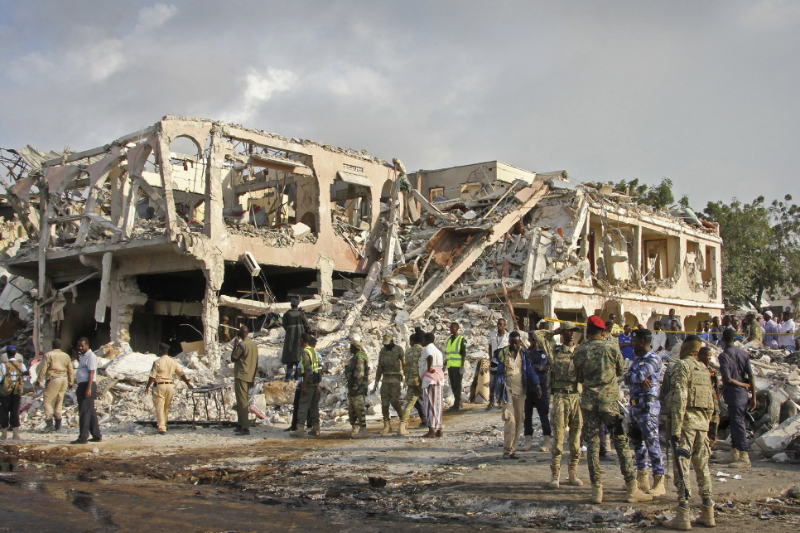 At least 17 civilians were killed and 70 others wounded after two suicide bombers attacked a restaurant and a hotel in Somalia's southwestern city of Baidoa. The armed group al-Shabab, who have sworn allegiance to the al-Qaeda terror group, claimed responsibility for the attacks.
Firstly, a man wearing an explosive device walked into Beder restaurant and blew himself up, killing multiple people and wounding others. Soon after the first blast, another suicide bomber blew himself up at the Bilan hotel, killing more than six people.
Notably, both Beder restaurant and Bilan hotel are popular with civilians and local government officials.
The terror group al-Shabab has claimed responsibility for the twin attacks. It said one blast targeted a hotel owned by a former Somali minister, Mohamed Aden Fargeti, one of several candidates running for the presidency of the region in November's election.
The blasts came on the eve of the one-year anniversary of a suicide truck bombing in Somalia's capital Mogadishu, that killed more than 500 people.
Importantly, Somalia has been engulfed in violence since the eruption of a civil war between clan-based armed factions in the early 1990s. Al-Shabab is staging numerous attacks across the country in an attempt to impose a radical version of Sharia law.
Also Read: Bhilai Steel Plant blast: Six lives claimed, 14 injured