Sonakshi Sinha defends Akshay Kumar for seven year old troll
Sonakshi Sinha slams those accusing Akshay Kumar of bodyshaming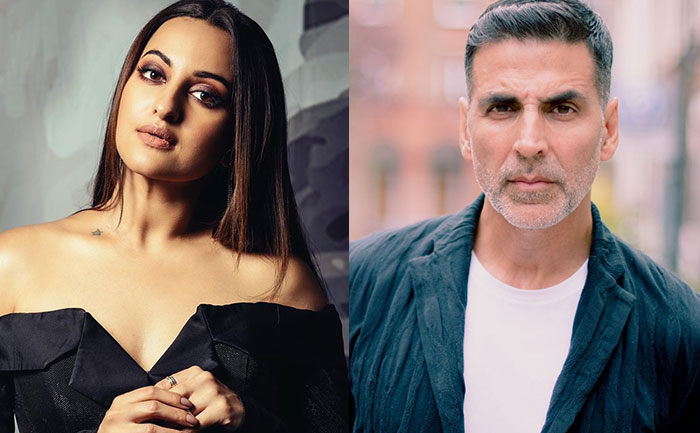 Sonakshi Sinha and Akshay Kumar have been friends for long time. Everyone is aware of their good friendship in Bollywood. The two have had worked together in several films. Beginning from Rowdy Rathore. The duo have worked in five films. Now, both the actors are defending each other lately.
Akshay Kumar had once said a statement in a seven year old interview because of which he is being trolled. "..Sonakshi is a wonderful actress who has her own style of acting. She has an absolutely different figure – a typical, Indian figure and not size zero. Khaate peete gharane ki lagti hai. I am a pure Punjabi. I like heroines who are hari bhari. Chusa hua aam na lage.." he said.
This old statement had been surfaced and appeared on social media. Now, the statement is being termed as 'misogynistic' and also 'objectification' of a woman. To this Sonakshi Sinha, replied in an interview to Hindustan Times .
She reverted on the topic saying, "Firstly, let me start by saying that trolls really have nothing better to do in life, so this is what they resort to. People have to understand that I was heavily body shamed at the start of my career, in spite of having lost 30 kilos, and what Akshay said was probably in response to something on the same lines."
Sonakshi defended Akshay Kumar on this matter. She further reportedly opened up on the matter that Akshay and her have a really good friendship and working equation with him as well. Sinha said that the Khiladi actor at that time was being a gentlemen and defending her with no intention of "objectifying" anyone as such.
Also Read: Akshay Kumar At HT GIFA Launch Talking About His Bollywood Journey So Far