Kylie Jenner saying 'Rise and Shine' to her daughter Stormi has become a meme
Kylie Jenner even changed her Instagram bio to "Rise and Shine."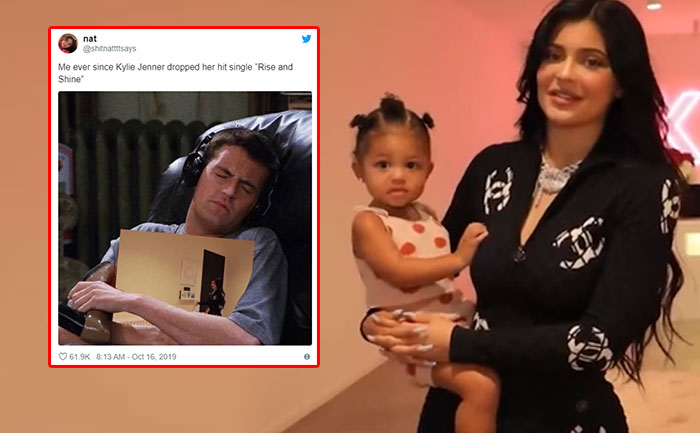 The makeup mogul Kylie Jenner recently uploaded a video on her YouTube channel of her giving a tour off her office space and right at the end of the video, Jenner enters into Stormi's room to wake her from her nap by singing the words: "Rise and shine"  and showcase her singing skills.
Kylie's two-second clip turned into an instant meme, the internet went crazy for it and the memes are unstoppable and to add more fun to the 'Rise and Shine' meme she updated her Instagram bio as well. 
Take a look at the 'Rise and Shine' memes:
A vocalist pic.twitter.com/BWJopbE0VF

— Owen Russell (@0wenRussell) October 14, 2019
lolll someone actually did this ?? #riseandshine #KylieJenner pic.twitter.com/UvwPSHkEzx

— maja (@majaaa_p) October 16, 2019
how do i set kylie jenner singing rise and shine as my alarm sound

— OLIVIA (@0li5ia) October 14, 2019
Stormi in the morning: pic.twitter.com/NUGr6w3Vn3

— ARɅBITCH (@tvriqsdead) October 16, 2019
what did i do #riseandshine pic.twitter.com/cifRStoofX

— stream magical mystery tour?✨? (@left4rat2) October 16, 2019
testing out my custom kylie jenner rise and shine alarm ringtone pic.twitter.com/qrxyXTYe3T

— kathaleena (@somvorna) October 15, 2019
Kylie Jenner also shared the 'Rise and Shine' meme on her Twitter handle. It looks like Jenner has been enjoying the memes as well.
— Kylie Jenner (@KylieJenner) October 16, 2019
Kylie's sister Kim Kardashian also could not stop herself from sharing the meme she retweeted and added the crying-laughing emoji
— Kim Kardashian West (@KimKardashian) October 17, 2019
Ariana Grande acknowledged the meme as she shared an Instagram story of herself singing "rise and shine"
The fact that Ariana Grande did the Kylie Jenner Rise and Shine is everything! ?? #KylieJenner #ArianaGrande #riseandshine @KylieJenner @ArianaGrande pic.twitter.com/TlJFOqTe0p

— trey (@mdiab9) October 17, 2019
Kylie Jenner shared this photo of herself using her own brand Kylie Skin's tinted moisturizer alongside the caption: "Riiise and shiine✨
On the other note, Kylie Jenner and Travis Scott took a break from their relationship and there are rumors that they considering getting back together and they were last seen together at the premiere of Travis's Netflix documentary 'Travis Scott: Look Mom I Can Fly' on August 28, along with Stormi Webster.
ALSO READ: FRIENDS: Jennifer Aniston Updates On Ross & Rachel's Relationship