New York: Sonali Bendre celebrates Diwali in an 'unconventional' way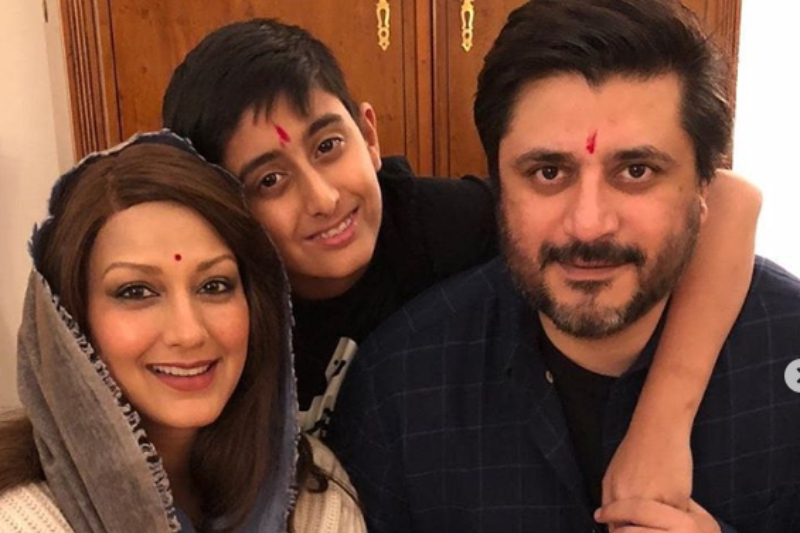 Sonali Bendre — who has been in the US for few months for her treatment celebrated Diwali in New York along with her husband Goldie Behl and brave son, Ranveer.  She might be battling a life-threatening disease, Cancer, but that does not stop her living life and celebrating the festival of light — Diwali, despite being away from the country.
Sonali Bendre's Diwali celebration did not come as a surprise for her fans as she has been inspiring millions since she was diagnosed with high-grade cancer.
Taking social media handles, Sonali Bendre shared pictures from what she calls an 'unconventional' Diwali and wrote a caption reading: "Diwali in New York happens much later than in Mumbai… Hence the late wish! It was quite an unconventional one… We didn't have Indian clothes, we had a small puja… But it was all heart. Happy Diwali everyone! May this year bring you good health, wealth and prosperity… Hope you celebrated this festival with your family and friends, and hope you cherish every moment of happiness with them!"
Notably, this is the first Diwali where Sonali is away from home after being diagnosed with cancer but we believe, she can overcome anything with this kind of love and support by her side.
Recently, Namrata Shriodkar — a close friend of Sonali Bendre was quoted as saying by Bollywood Hungama. "She is a strong girl. She looks amazingly fit and ready to resume a normal life. I had such a lovely time. We discussed so many things. She told me the entire story of her illness and what gives her the strength to deal with it strongly. I told her she's always in my prayers."
Also read: Sonali Bendre to resume normal life by December: Namrata Shirodkar