After Sonu Nigam Threaten's Bhushan Kumar, Divya Khosla Kumar Calls Him 'Thankless'
Divya Khosla Kumar Calls Out Sonu Nigam For Threatening Hubby, Bhushan Kumar. The Singer Warned Bhushan In His Recent Video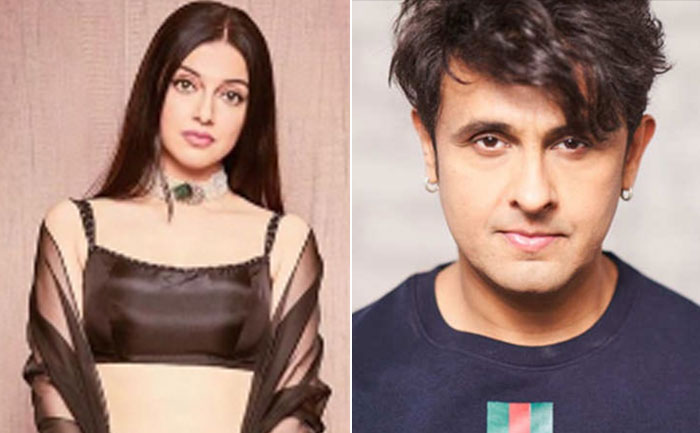 Bhushan Kumar's wife, Divya Khosla Kumar slams Sonu Nigam and calls him 'thankless' in her recent social media post. She also reminds him that it was their company which gave him the major break in the industry. The 'Abhi Mujh Mein Kahin' crooner had posted a video on his Instagram handle, where he could be seen threatening Bhushan and he warns taking names such as Marina Kanwar and Abu Salem.
On Monday, Sonu Nigam had posted a video on his Instagram, threatening Bhushan to not mess with him. Further, he even mentioned in his video that the T-series current owner had asked to introduce him to Smita Thackeray and Bal Thackeray and save him from gangster Abu Salem. Nigam had also reminded Bhushan of Marina Kanwar in his video saying, "Do you remember Marina Kanwar? I don`t know no why they spoke and why they backed out, but media knows how the mafia functions. I still have that video with me. Now if you mess with me, I will upload that video on my YouTube channel. So don`t mess with me." When MeToo created a momentum in Bollywood, Marina was the one who accused Bhushan.
Slamming Sonu for his video post, Divya Khosla took to her Instagram handle and shared a cryptic note. Her post read, "Today it's all about who can run a good campaign.. I'm even seeing people being able to sell lies and deceits with their strong campaigns.. Sonu Nigam – such kind of people know how to play with the minds of the audience.. God save our world."
Take a look at the screenshot of her Insta story post: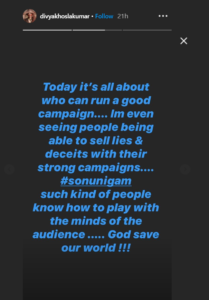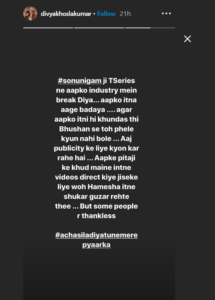 For more such updates, stay hooked on to The Live Mirror.
Also Read: Sonu Nigam Warns T-Series' Bhushan Kumar; Talks About Marina Kunwar And Abu Salem-Watch