Sonu Sood on helping migrant workers, 'We will try to send migrants to Ranchi and Bihar next'
On Monday, Sonu Sood arranged buses for migrant workers stuck in Mumbai due to the coronavirus lockdown.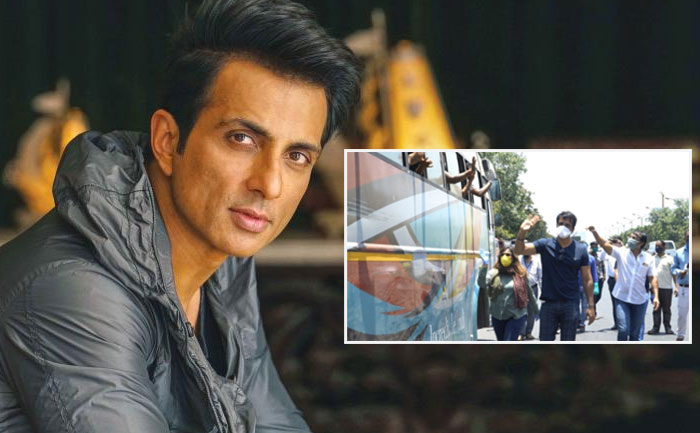 On Monday, Sonu Sood arranged ten buses for migrant workers stuck in Mumbai amid the nationwide COVID-19 lockdown. The buses were to take the workers back to their homes in Karnataka. The buses left from Thane, Maharashtra on Monday for Gulbarga, Karnataka. Sonu's team acquired the necessary permits from Maharashtra and Karnataka governments.
Now, the actor says, he is hoping to send more migrants to Ranchi and Bihar next. Talking to the Mumbai Mirror, he said, "It was so satisfying to see them happy and emotional that they are going home. We have been trying to put together a plan to send people to Odisha, Jharkhand, Uttar Pradesh, Bihar among other places. We are in the final stages of putting things together for Ranchi and Bihar. The paperwork is in process. If everything goes well, we will try to send them today or tomorrow."
The Happy New Year actor also said, "It's a different world now and it will be a very different world once we get out of it. We all have been hit badly in terms of work, finances, physical and mental health," he said.
"We have to find a way to live in the circumstances. While one can crib and spend time scrolling on social media, another way is to help others. We can inspire a few more and honestly, together we can fight this thing. My day goes by coordinating things like transport for migrant workers, taking government permissions, organizing food among other things. And I feel very happy and satisfied. If I was shooting, I wouldn't have had all the time in the world. Now, that I have all the time, it is important to give that to the needy," said the actor.
The actor also said that he feels inspired when he reads about these doctors, nurses, policemen, and other frontline workers performing their duties selflessly.
Stay Tuned to The Live Mirror for more updates.