Game of Thrones Star Sophie Turner Will Not Repeat THIS Mistake On Her Wedding
Sophie Turner Learned A Lesson From Priyanka Chopra and Nick Jonas' Wedding and said "Will Not Repeat The Mistake"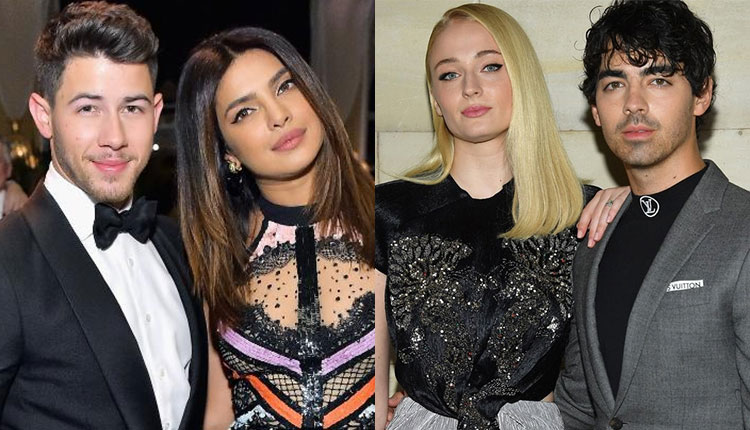 The Global actress Priyanka Chopra and American singer Nick Jonas have been in the news ever since they started dating each other since last year. Priyanka and Nick took their relationship to the next level in December last year tied the knot in Jodhpur's Umaid Bhavan. Ever since the couple exchanged their wedding vows they are constantly giving us major relationship goals and even many of us want to be like them. But, do you know that Game of Thrones star and Priyanka Chopra's to be sis-in-law, Sophie Turner and Joe Jonas do not want to repeat the same mistake that Priyanka and Nick made in their wedding.
Yes, Game of Throne's actress Sophie Turner seems to have taken a big lesson from NickYanka's wedding. After their exorbitant wedding, now its turn to Sophie and Joe, who are all set to get hitched in Paris in Summer 2019. However, the wedding date of Joe Jonas and Sophie Turner has not yet announced.
In a group interview on a show, Joe Jonas reminded a goof-up which happened during NickYanka's wedding in India and he swears that he will not make the same mistake in his wedding.
What Mistake Priyanka Chopra and Nick Jonas made at their wedding?
Well, the Jonas' ran out of beer at Nick Jonas and Priyanka Chopra's wedding and that became a huge issue for the guests, who did not get hard drinks and had to drink light beer. Kevin Jonas also reveals that things went downhill after the beer supply was over. So, now Joe has decided to stock up enough beer on his wedding.
Joe said, "I mean, we are getting married in France, so a lot of Coors Light is necessary. Not hard, really, to get that, but we needed to make sure that was going to happen."
Nick admitted the mistake and said, "We learned a lesson from my wedding. Our friends drink a lot of beer, specifically, and we ran out of beer at the wedding, at my wedding, which was a big issue."
Meanwhile, Kevin said, "It starts to get very dark very fast with hard alcohol instead. It's just like 'Oh, we're doing this now? Okay.'" Well, we really hope that Joe's wedding has an ample supply of beer for his guests.
Also Read: Priyanka Chopra And Nick Jonas' Wedding Reception Invite