Notre Dame Fire: Celebrities across the Globe react to the destruction
Notre Dame Fire: Celebrities take to social media to express their shock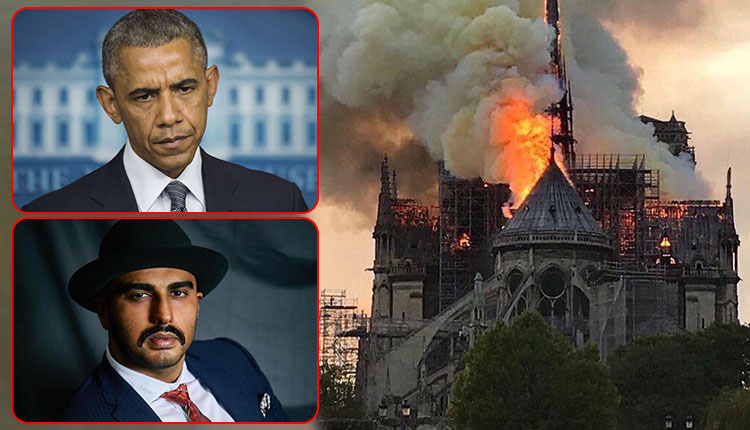 A massive fire engulfed iconic Paris cathedral Notre Dame on Monday and soon destroyed the Spire and much of the iconic building. The Gothic masterpiece is one of the most visited sites in Paris and had withstood not only the French Revolution but also the two wars.
The disaster drew a response from far off corners of the world soon Bollywood and Hollywood celebrities along with a host of politicians across the globe tweeted their heartache over social media. World leaders such as Barack Obama and Hillary Clinton have also expressed their grief and sadness over the incident.
Check out the tweets here:
Barack Obama tweeted,
Notre Dame is one of the world's great treasures, and we're thinking of the people of France in your time of grief. It's in our nature to mourn when we see history lost – but it's also in our nature to rebuild for tomorrow, as strong as we can. pic.twitter.com/SpMEvv1BzB

— Barack Obama (@BarackObama) April 15, 2019
Hilary Clinton too did the same,
My heart goes out to Paris. Notre Dame is a symbol of our ability as human beings to unite for a higher purpose—to build breathtaking spaces for worship that no one person could have built on their own. I wish France strength and shared purpose as they grieve and rebuild.

— Hillary Clinton (@HillaryClinton) April 15, 2019
So did many Bollywood celebs:
Arjun Kapoor wrote,
Devastated on seeing the fire at the Notre Dame Cathedral.. a piece of history turn to ashes.. Our hearts are with the people of France ❤

— Arjun Kapoor (@arjunk26) April 16, 2019
Tamannaah Bhatia tweeted,
She's been around for over 800 years not just as a testament of our history but also place for many that found their peace, hope and faith in. This iconic monument is an inspiration to artists across the globe and it's really sad to know that humanity has lost #NotreDame today. pic.twitter.com/WwhkNU7xfD

— Tamannaah Bhatia (@tamannaahspeaks) April 15, 2019
Bhumi Pednekar:
Woke up to the news of #NotreDameFire and my heart broke.Shattered.Having visited the cathedral a few times,there is a sense of loss..So much history…more power to the fire fighters that have done everything to save it ?? pic.twitter.com/guhH8kCYx9

— bhumi pednekar (@bhumipednekar) April 16, 2019
Riteish Deshmukh:
This is a world tragedy #NorteDame -I have no words to express my sadness. To every Notre Dame lover – am so so sorry. pic.twitter.com/FcCQaN6qhI

— Riteish Deshmukh (@Riteishd) April 15, 2019
Raveena Tandon,
Omg . Terrible . Terrible . This is a horrible loss to history and ancient heritage. https://t.co/E2HPc6OgkO

— Raveena Tandon (@TandonRaveena) April 15, 2019
Rishi Kapoor:
Notre Dame de Paris Cathedral will survive! It has the good wishes and prayers of millions. pic.twitter.com/wdgt1H35vk

— Rishi Kapoor (@chintskap) April 15, 2019
Actor James Wood tweeted,
As a Roman Catholic and a friend of France, to see this magnificent creation engulfed in flames is a knife to the heart. #NotreDame https://t.co/FyISs5LIOS

— James Woods (@RealJamesWoods) April 15, 2019
Actor Luke Evans tweeted,
Im in utter shock watching the terrible sights on TV. #NotreDame cathedral is on fire and we are watching as the world is about to lose this 850 year old historical, iconic and beautiful world heritage building. Huge huge loss pic.twitter.com/NIrmYpubq7

— Luke Evans (@TheRealLukevans) April 15, 2019
British actor Idris Alba tweeted,
I cannot believe what's happening to Notre Dame.

— Idris Elba (@idriselba) April 15, 2019
Game Of Thrones star Maisie Williams tweeted,
Interrupting my birthday to express how much pain I'm in watching the Notre Dame fire unfold. Such an incredible building. I'm so sad

— Maisie Williams (@Maisie_Williams) April 15, 2019
At present, the fire is contained and French President Emmanuel Macron said France would launch a campaign to rebuild the cathedral, including through fundraising efforts and by appealing to "talents" from overseas to contribute.
Also Read: Notre Dame Fire: Massive fire destroys Paris cathedral