Spotify Launches Lite Beta App For Low-End, Old Android Smartphones In India
Spotify Lite Beta App Now Live in India, Aimed at Low-End Android mobile phones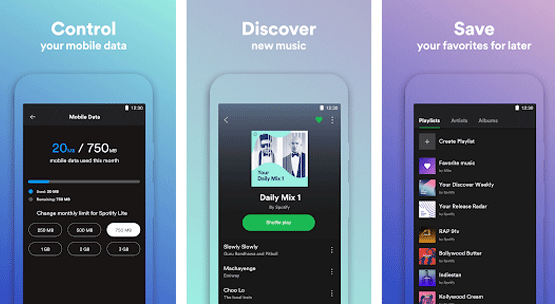 After testing in Indonesia, Phillippines, Mexico, Malaysia and Brazil, Swedish audio Streaming platform Spotify, whose headquarters located in Stockholm, has launched its App's beta version in India. Keeping in mind old smartphones and low-end Android mobile phones, Spotify has finally introduced a lighter version of its app in India. The low sized (10 MB) Spotify app can be easily and smoothly used in the phone which has limited space and low RAM too.
It is to be noted that the Beta's version came two months after Spotify was launched in India. The company called this an attempt to enable users to play millions of songs for free and saves data when uses on the go. You can download Spotify Beta version from here.
"When Spotify launched in India two months ago, we had committed to localising the app so that more and more people can listen to music… Spotify Lite Beta is a step in that direction as it enables users to play millions of songs for free, takes up less space on phones, and saves data when used on the go," Amarjit Batra, Managing Director India, Spotify, told news agency IANS on Monday.
If you have already downloaded the basic version of Spotify and wanna experience this version, you can download it separately or either alongside or independently from the main Spotify app. You can download it from the Google Play Store.
"Our ambition is to be available on all platforms that make sense to our users, and make the music streaming experience as seamless as possible," Batra added.
Talking about Spotify, the company was launched by Spotify AB on in 2008. It lets users access to use more than 40 million songs. You can browse it by parameters such as artist, Ablum or genre. You are given options to create, edit and share playlists with your loved one.
Apart from India, Spotify is available in most of Europe and the Americas, Australia, New Zealand, and parts of Africa and Asia, and on most modern devices, including Windows, macOS, and Linux computers, and iOS, Windows Phone, and Android smartphones and tablets. As of April 2019, it had 217 million monthly active users, including 100 million paying subscribers.
The main Spotify app which was launched in India this February had gotten more than one million followers within the week of its launch. The platform adds approximately 30,000 new tracks each day. Spotify is available on over 500 products across 200 hardware brands globally.
Also Read: Popular Audio Streaming Platform Spotify Launches In India At Rs.129 Per Month