Stan Lee's life motto 'Excelsior'; Fans, friends and colleagues pay tribute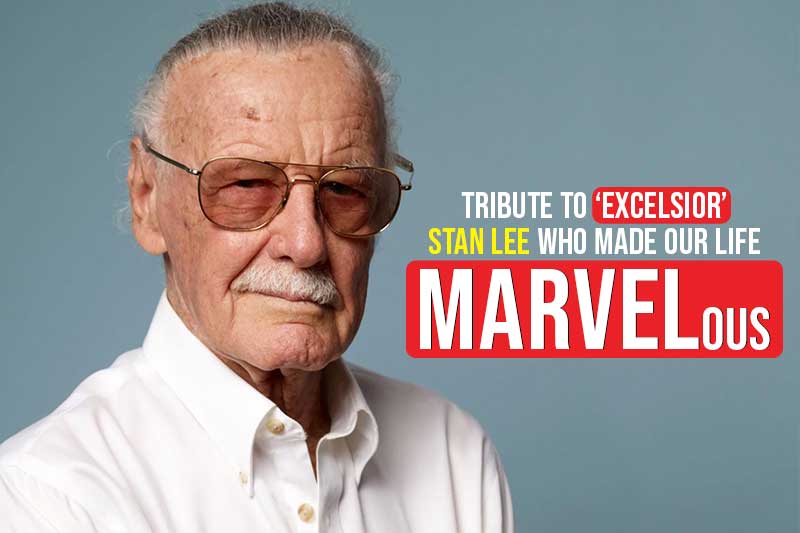 Stan Lee, the legendary writer, editor and publisher of Marvel Comics, passed away on Monday at the age of 95. Lee had suffered several illnesses over the last year or so and had a bout of pneumonia and vision issues.
An inspiration to generations of writers, artists, actors and superhero fans, Stan Lee was remembered by the Hollywood superstars who have played the iconic characters of the Earth's mightiest superheros — The Avengers. Fans, friends and colleagues paid tribute to Stan Lee with one word i.e "excelsior".
It is to be noted that for Lee, "excelsior" wasn't just a term to remember him by. It was his nature—creating, striving, ever upward. On 9 November 2010, in a tweet, he had said, "Finally, what does "Excelsior" mean? "Upward and onward to greater glory!"  That's what I wish you whenever I finish tweeting!  Excelsior!"
Finally, what does "Excelsior" mean? "Upward and onward to greater glory!" That's what I wish you whenever I finish tweeting! Excelsior!

— stan lee (@TheRealStanLee) November 9, 2010
Soon after Lee's demise, Avengers actors and Marvel Universe team bid adieu to the 'Excelsior':
Chris Evans aka Captain America took to Twitter to pay tribute to Stan Lee. In a tweet, he said, "There will never be another Stan Lee. For decades he provided both young and old with adventure, escape, comfort, confidence, inspiration, strength, friendship and joy. He exuded love and kindness and will leave an indelible mark on so, so, so many lives. Excelsior!!"
There will never be another Stan Lee. For decades he provided both young and old with adventure, escape, comfort, confidence, inspiration, strength, friendship and joy. He exuded love and kindness and will leave an indelible mark on so, so, so many lives. Excelsior!!

— Chris Evans (@ChrisEvans) November 12, 2018
Soon after his demise, Avengers actors and Marvel Universe team bid adieu to the 'Excelsior':
"No one has had more of an impact on my career and everything we do at Marvel Studios than Stan Lee. Stan leaves an extraordinary legacy that will outlive us all. Our thoughts are with his daughter, his family, and his millions of fans. #ThankYouStan #Excelsior!"
–@Kevfeige pic.twitter.com/s4Kmt6Rn5J

— Marvel Studios (@MarvelStudios) November 12, 2018
Sad, sad day. Rest In Power, Uncle Stan. You have made the world a better place through the power of modern mythology and your love of this messy business of being human… pic.twitter.com/x6yZ6ClNSX

— Mark Ruffalo (@MarkRuffalo) November 12, 2018
Thank you for filling our childhoods with such joy. You will be dearly, dearly missed… pic.twitter.com/Qt2sZqaNlc

— Russo Brothers (@Russo_Brothers) November 12, 2018
Damn… RIP Stan. Thanks for everything. pic.twitter.com/TMAaDJSOhh

— Ryan Reynolds (@VancityReynolds) November 12, 2018
No one has had more of an impact on my career and everything we do at Marvel Studios than Stan Lee. Stan leaves an extraordinary legacy that will outlive us all. Our thoughts are with his daughter, his family, and his millions of fans. #ThankYouStan #Excelsior!

— Kevin Feige (@Kevfeige) November 12, 2018
Thanks for everything Stan Lee! What a life, so well lived. I consider myself extraordinarily lucky to have gotten to meet you and to have played in the world you created.
?♥️ pic.twitter.com/ryUjG7PL8D

— chris pratt (@prattprattpratt) November 12, 2018
RIP @TheRealStanLee He made everyone feel like a kid in his presence no matter what your age. pic.twitter.com/JYeWXq8iKb

— Jim Lee (@JimLee) November 12, 2018
We've lost a creative genius. Stan Lee was a pioneering force in the superhero universe. I'm proud to have been a small part of his legacy and …. to have helped bring one of his characters to life. #StanLee #Wolverine pic.twitter.com/iOdefi7iYz

— Hugh Jackman (@RealHughJackman) November 12, 2018
Rest in peace, Stan Lee. The many worlds of imagination & delight you created for humanity will last forever.

— Elon Musk (@elonmusk) November 12, 2018
View this post on Instagram
Also Read: Stan Lee, the godfather of Marvel Comics' passes away at 95