Where to find deluxe edition & preorder bonus items in Star Wars Jedi Fallen Order
Star Wars Jedi Fallen Order is set to release November 15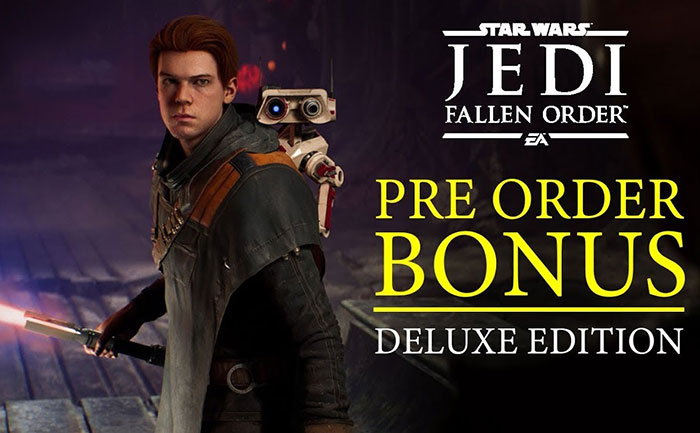 Star Wars Jedi Fallen Order is soon releasing on PS4, Xbox One, and PC. The game has been developed by Respawn Entertainment. This game is a single-player with no microtransactions.
The game offers special bonuses for players who pre-order the game. Pre-order bonus items in the game range from light-saber colors and skins to outfits for Cal, BD-1 and the Mantis. The Deluxe edition offers further rewards such as digital art and Director's cut BTS videos.
There is also a GameStop exclusive online-only Star Wars Jedi: Fallen Order bundle available for $82.98 on PS4 and Xbox One. This special edition offers a Black Series action figure in addition to the standard game.
This guide will show players where they can find deluxe edition & preorder bonus items in Star Wars Jedi Fallen Order.
Where to find deluxe & preorder bonus items?
The deluxe edition bonus items can be accessed right away. Once the game is loaded, players will find a 'bonus content' option in the main menu at the bottom.selecting it will bring players to a gallery where they can browse the content art available.
Players looking to get their hands on the lightsaber skins can access it while customizing their weapon. Weapons can be customized through any available workbench. These can be found on the Mantis or in the Hermit's Abode early in the game.
The clothing for Cal, BD-1 and the Mantis is accessible through the menu at any time. PlayStation players can press options and then press R1 to access the customization tab. Choose who to customize  using the d-pad. Next, choose the skin to activate and press X to confirm the choice.
ALSO READ: Star Wars: Iconic Darth Vader Suit Up For Auction In Los Angeles