Star Wars: Tom Holland Recalls Loosing Big Opportunity For Finn's Role
Spider Man fame, Tom Holland recalls loosing the only opportunity for Finn's role in Star Wars. He clarifies how he bombed the audition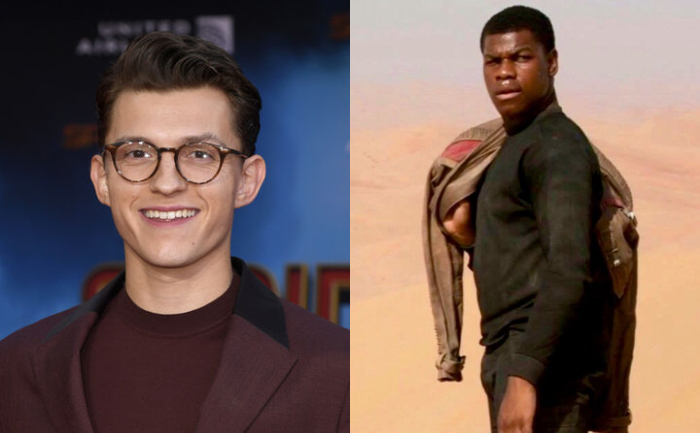 After portraying the Spider-Man in Marvel Cinematic Universe, Tom Holland garnered a next level fame. His this role was received well by the audience and currently he is enjoying a different set of fan following after the box-office success. The 24-year-old actor recalls the moment how he messed up with a big opportunity while he was auditioning for Finn's role for then upcoming movie, Star Wars: Episode VII. While talking to Backstage recently, the actor revealed that he had managed to crash in till the audition sessions for the key roles, however, he lost the big win opportunity just for few small reasons.
Renowned actor, John Boyega portrayed the role of Finn in Star Wars VII and his onscreen performances was also received well. Tom Holland while mentioning about losing this opportunity of doing John's part in the blockbuster informed the outlet that, "I remember doing this scene with this lady, bless her, and she was just a drone. So I was doing all of this, like, 'We gotta get back to the ship!' And she was going, 'Bleep, bloop bloop, bleep bloop.' I just couldn't stop laughing. I found it so funny. And I felt really bad, because she was trying really hard to be a convincing android or drone or whatever they're called. Yeah, I obviously didn't get the part. That wasn't my best moment."
The same report also mentions Tom confessing further that he was not confident about being able to portray such characters which keeps changing throughout the film. He stated that for him moving from A to B for one single character was quite challenging at that time.
Nonetheless, Tom Holland surely would have made best choice as per the situation and time. He went ahead with Spider-Man and he made sure to rock his part in the movie.
For more such updates, stay hooked on to The Live Mirror.
Also Read:  Spider-Man 3: Tom Holland Shares About Reaching Atlanta For The Shoots-Watch