Stephen Constantine rues lack of preparation time ahead of China friendly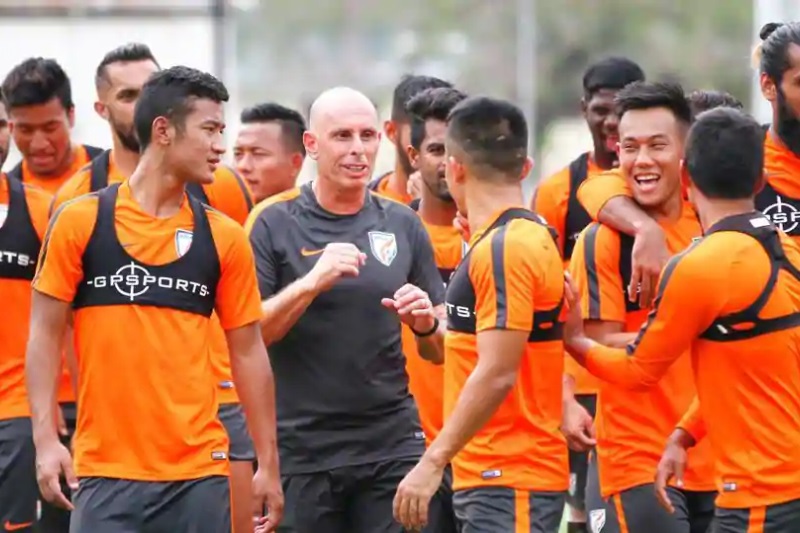 Head coach Stephen Constantine rued India's lack of preparation time ahead of their international friendly tie against China on October 13. A 22-member squad was announced for the historic fixture –India will for the first time play on Chinese soil.
"Of course, it is a problem (of not having enough time). We don't have much time to do what we need to do, we needed a few more days. Going forward, we need to have more time for preparation in future," Constantine was quoted as saying by news agency PTI ahead of their training session at the JLN Stadium in Delhi on Tuesday.
India and China have faced each other 17 times, with the Red Dragons winning 12 of those encounters. The rest five ended in draws. The last time they played against each other was in the 1997 Nehru Cup in Kochi, where China won 2-1.
Almost every player from the selected team were part of the Indian Super League season five's opening phase and among the 22 many also played in the Bengaluru FC vs Jamshedpur match on October 7. The players arrived on the next day and will travel on Tuesday midnight following a day of practice.
"The boys played on October 7 (in ISL) and they arrived here on October 8 lunchtime, so we could not train on October 8. We are training today and then leaving tomorrow. So we have very little time for preparation as a team," added the 55-year-old.
Also Read: India announce 22-member squad for friendly-match against China
Asked if he was happy about the fitness of his players, Constantine further let his disappointment be known. "If we had time, we could have tested their fitness levels. But now we don't have time to test their fitness," he said. "Most of them have played at least two ISL games for their clubs, so I am hoping that they are in good fitness condition.
"When I get the players from the clubs, they need at least two days to recover before we start a proper camp. But here we don't have time to do that," added Constantine.
Constantine, now in his second stint as the head coach of the senior Indian football team has so far given a debut to 44 players, ever since he was appointed in 2015. And reminded about it, he quipped that he won't back off if there comes a chance against a superior Chinese side.
"More than 50 per cent of the current squad is Under-23 and if I feel some more young players need to be given a chance, I will do that."
Striker Balwant Singh was dropped from the squad as his passport expires in six month's time and was denied a Chinese visa.
Image Source: Hindustan Times