Cyclonic storm Titli hovers around Odisha, Andhra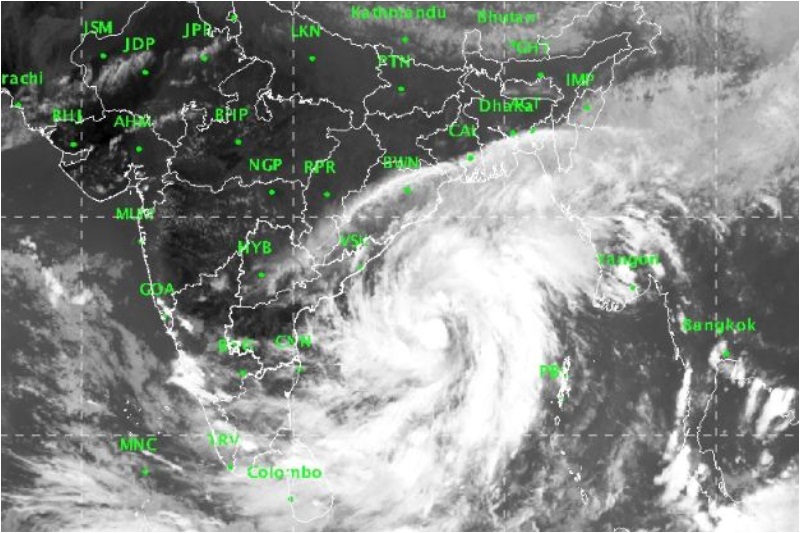 For the last few days, the Bay of Bengal has witnessed a deep depression which has further intensified and is set to become a cyclonic storm for Odisha and Andhra Pradesh. The national weather office IMD announced on Tuesday and issued a red alert.
According to IMD, the cyclone, which is named Titli, is expected to turn into a severe storm in next 24 hours. The eye of the storm is about 480 km east-southeast of Kalingapatnam in Andhra Pradesh and 530 km southeast of Gopalpur.
Odisha government though took measures by informing all district authorities to be prepared to deal with the natural calamity. The IMD also forecasted heavy rain in adjoining state West Bengal too.
The red alert issued by IMD has forecast "heavy to very heavy rainfall" at many locations and "extremely heavy rainfall" at isolated locations in the next couple of days. The weather office also informed that in the last six hours the cyclone has moved westward at 8 kmph.
"It is very likely to intensify further into a severe cyclonic storm during the next 24 hours and move west-northwestwards for some more time, then north westwards, and cross Odisha and adjoining north Andhra Pradesh coasts between Gopalpur and Kalingapatnam around morning of October 11," the director of the meteorological centre in Bhubaneswar HR Biswas was quoted as saying by news agency PTI.
The cyclone is expected to move towards Gangetic West Bengal and then to coastal Odisha and will slowly fade away.
"The wind speed will gradually increase to 80-90 kmph and gusting to 100 kmph from Wednesday evening along and off south Odisha coast and 55-65 kmph gusting to 75 kmph along and off north Odisha coast," the IMD bulletin was quoted by the agency.
ALSO READ: Cyclone to bring heavy showers in north-central Maharashtra, Vidarbha