Sunil Gavaskar's Crass Comment On Virat Kohli & Anushka Sharma Leaves Netizens Fuming
Sunil Gavaskar's controversial comment on Virat Kohli, Anushka Sharma leaves fans Furious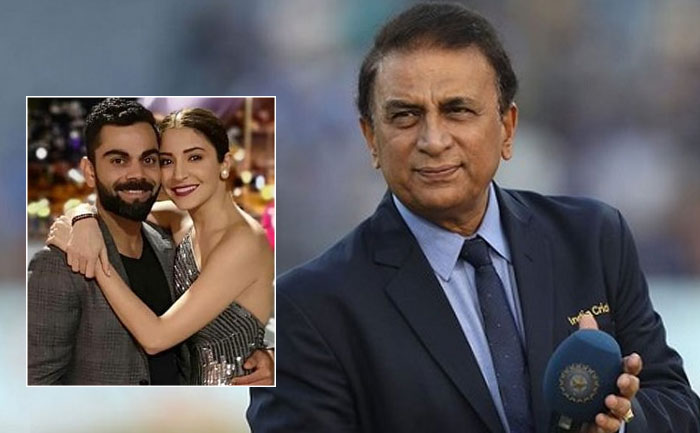 Legendary cricketer Sunil Gavaskar's crass comment on Virat Kohli and Anushka Sharma left netizens fuming. It all happened after the Indian captain dropped two catches and managed just a run-off five balls against Kings XI Punjab in Dubai on Thursday night. His performance disappointed fans. But they were up in arms for him as, in the commentary box, Gavaskar came up with a crass comment involving Kohli's actor wife Anushka.
The former cricketer-turned-commentator took a dig at Virat Kohli and said that he only trained against Anushka's balls during the lockdown. "Inhone lockdown me to bas Anushka ki gendon ki practice ki hai," said Sunil Gavaskar. The batting legend could have been referring to the viral video of Anushka and Virat playing cricket during the lockdown. But his choice of words left fans fuming.
The remark did not go down well with the RCB skipper's fans. Many of them took to Twitter urging the BCCI to remove Gavaskar from the commentary panel.
Check out the tweets by furious fans of Virat Kohli,
If he was referring to Anushka bowling to Virat in lockdown or the other and the more controversial way, it is wrong to drag someone's wife in this totally unrelated matter. Moreover, after she's been targeted for many years. #SunilGavaskar #KXIPvsRCB

— Vasu Vashisht (@vasu_vashisht12) September 24, 2020
Gavaskar didn't mean that. He meant Kohli practiced batting while Anushka bowled to him during Lockdown. Stop quoting that tweet ffs 🤦 pic.twitter.com/ExQWLOp6Oz

— Cheeru ツ (@sobermonk) September 24, 2020
If Gavaskar said that for real swear to GOD HE DESERVES HIS MOUTH TO BE BROKEN!!!!!!!

— ROYALS ✨ (@Cric_diary_) September 24, 2020
Gavaskar sir have u now completely lost it or something? A senior cricketer saying such stuff about anyone let alone ICTs captain. Man u lost all the respect we had for you.

— Riya⁷ (@sassy_me22) September 24, 2020
I know this was meant to be taken as joke because he was playing cricket with her during lockdown. But 🤮🤮🤮 https://t.co/diZ8WJ1AAu

— CluelessMonster (@CluelessMonster) September 24, 2020
Heard this live and the guy laughed. He has always been in the news for making some really unacceptable remarks "jokingly" while in the commentary box but this isn't okay. Who gave him the right to drag somebody's family into it irrespective of the context he meant it in? https://t.co/4MeFZNOdx4

— m (@Manasa2922x) September 24, 2020
This is not the first time that Anushka has been targeted for Virat's performance. The Bollywood actress has been blamed whenever Kohli under-performed on the cricket field.
Virat Kohli had a horrible day for Royal Challengers Bangalore in the IPL 2020 clash against Kings XI Punjab. The Royal Challengers Bangalore skipper dropped two catches of KL Rahul. Royal Challengers Bangalore lost the match by a massive 97 runs.
Also Read: Mom-To-Be Anushka Sharma Flaunts Her Baby Bump On A 'Gratitude' Note