Super 30: Jugraafiya is here to woo your hearts with the romance
Hrithik Roshan Starrer Super 30's first song Jugraafiya is out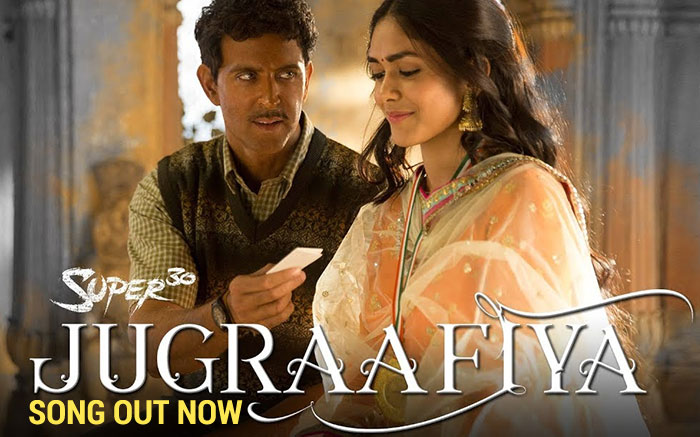 'Super 30', the biographical film about the brilliant teacher Anant Kumar. The teacher known for his Super 30 programmes has been a rage for quite a while. The film's trailer has reached quite a milestone.
The makers of the film have launched the first song of their film titled 'Jugraafiya'. The makers had announced its arrival earlier today.
#Jugraafiya Song out today #Super30 pic.twitter.com/og5SN3XkPq

— Hrithik Roshan (@iHrithik) June 14, 2019
In the still shared by the makers, one can see Hrithik Roshan romancing Mrunal Thakur. The song has been crooned by Udit Narayan and Shreya Ghoshal. Previously a teaser had been released as well.
All roads lead to love! #Jugraafiya out on June 14. @mrunal0801 #UditNarayan @shreyaghoshal @AjayAtulOnline @OfficialAMITABH @RelianceEnt @NGEMovies @PicturesPVR @ZeeMusicCompany @super30film pic.twitter.com/VsXKBVPaF2

— Hrithik Roshan (@iHrithik) June 12, 2019
Watch the video here.
'Super 30' will be released on 12th July 2019. Notably, earlier it was supposed to release on 26th January this year, but the release was pushed because director Vikas Bahl's appeared in the #MeToo movement. After that, it was supposed to clash with Kangana Ranaut's 'Mental Hai Kya'. However, in a statement, Hrithik said that he had shifted the release date to avoid toxicity.
Days back, Kangana had lashed out at Hrithik in an interview. In response, Hrithik came on Republic and said, "I need to say what I want to say, but I have to live up to this star thing of mine. I have to be cool and not give any attention to something that is not important, but after a while, I realised I was pretending. It was affecting me. It was affecting my community. It was affecting my sense of well being. That's not being a hero, that's being fake."