Supreme Court Gives Green Signal For Central Vista Project
Central Vista Project Gets Supreme Court Go-Ahead With Conditions Applied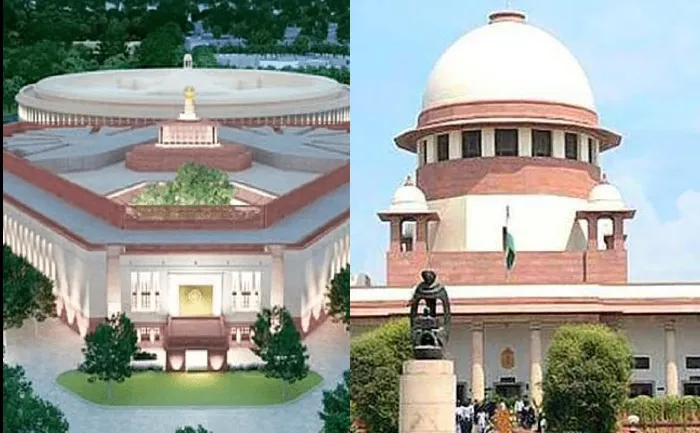 The honourable Supreme Court on Tuesday gave a go-ahead for the Central Vista Project. The project is all about making a new Parliament building and offices around it. A three-judge bench headed by Justice A M Khanwilkar held that the grant of environmental clearance and the notification for change in land use for the project was valid.
But the Supreme Court has withheld the environmental clearance and notification for change in land use for the Central Vista project.
This was in response to a petition filed over the permissions given. The top court had on November 5 reserved its judgement on petitions filed by advocate Rajeev Suri and Lt Col (retd) Anuj Srivastava and others. They had questioned the environmental clearance and change of land use, without following due procedure.
Union Minister Hardeep Singh Puri welcomed the Supreme Court judgement giving a go-ahead to the Central Vista redevelopment project. He tweeted,
We welcome the Judgement of the Hon'ble Supreme Court giving the go ahead for the ambitious Central Vista Project.

Central Govt has always been sensitive to environmental concerns & will continue to adhere to the highest standards during the period of construction.

— Hardeep Singh Puri (@HardeepSPuri) January 5, 2021
The Central Vista project is all about a new triangular Parliament building, that includes a common central secretariat, Also revamping of the three-km-long Rajpath, from Rashtrapati Bhavan to India Gate. The Central Public Works Department (CPWD)has revised the estimated cost from Rs 11,794 crore to Rs 13,450 crore.
The Central Vista Project is estimated to be constructed by August 2022 by India's 75th Independence Day.
Also Read: COVID-19: Sonia Gandhi offers Government five suggestions to cut expenses