Supreme Court is ours, Ram temple will be built: BJP neta Mukut Bihari Verma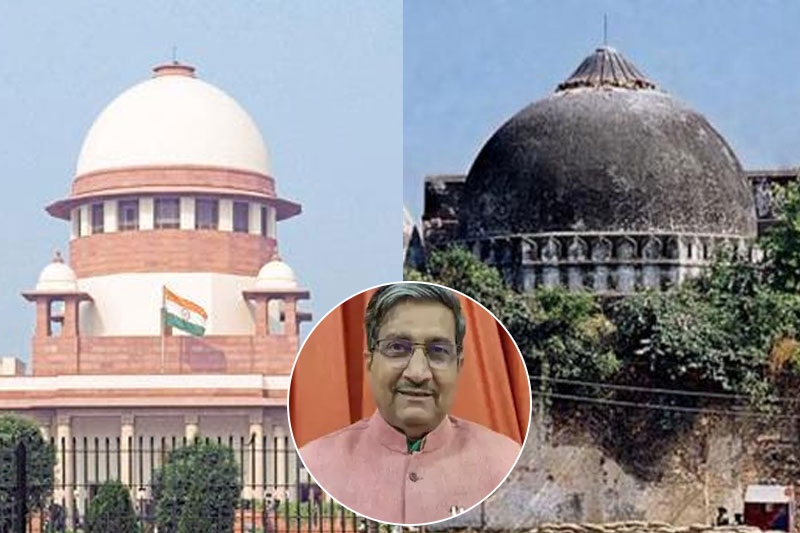 Bharatiya Janata Party has been vocal about Ram temple-Babri Masjid demolition issue, since its inception. Though knowing the fact that the matter is sub-judice in Supreme Court, a minister in the Yogi Adityanath government has promised to build the temple "since the Supreme Court is ours (BJP)". The leader is the cooperative minister in Uttar Pradesh — Mukut Bihari Verma.
Addressing the press conferences, as reported by the NDTV, Verma had said, "The BJP has come to power on the issue of development but Ram Mandir will be constructed as it is our determination. The matter is in Supreme Court and the Supreme court is ours. The judiciary, administration, the nation as well as the Ram Temple belong to us."
It is to be known that a special bench is hearing 14 appeals filed against a judgment delivered in 2010 by the Allahabad High Court, in which the bench decided to be equally among three parties — the Sunni Waqf Board, the Nirmohi Akhara and Ram Lalla.
This is not the first time that any leader for BJP has spoken on the disputed Ram temple – Babri Masjid row, knowing that the matter is sub-judice. Earlier too, Deputy Chief Minister Keshav Maurya in June had hinted that the BJP could opt for a third option, if required. He had said, "I feel there should not be too much delay in the judgment, or it can be resolved through dialogue or the third option is to pass a law in parliament — that option is open too."
Even Chief Minister Yogi Adityanath has hinted that BJP is keen to make the Ram temple any cost, but unlike other he was diplomatic in using his words. He had said, "When Lord Ram showers his blessings on Ayodhya, the Ram mandir will definitely be built and there should be no doubt about it. At least there shouldn't be any doubt among saints".
ALSO READ: Yogi Adityanath: Only Lord Ram can set date for 'Mandir' construction